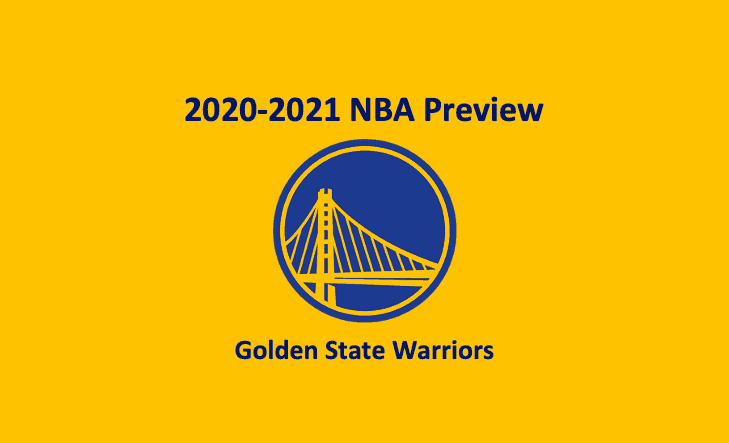 Our Golden State preview 2020 – 2021 notes that last season this team won just 15 games. They lost 50. The Warriors ended up 34 games out of first place and posted the worst record in the NBA. This was a major plummet for this team, which made the postseason each of the seven prior seasons. Over those seven seasons, they earned a first-place division finish five times, won the top spot in the conference four times, and made it to the NBA Finals five times. Over five of those seven years, the Golden State Warriors won the title three times. It was an amazing run, which makes their downfall even more bizarre.
Golden State Preview 2020 – 2021 – Stats
The Warriors could not score. Last year, they averaged 106.8 PPG (28th), while connecting on just 43.8% of their shots, which was 29th in the NBA. They were also 29th in three-point percentage (33.4%). One positive point concerning scoring, they were fourth in frees completing 80.4% of their attempts. However, there's more on the negative side, as Golden State recorded just 42.8 RPG (24th), 4.6 BPG (20th), and 14.3 TO (19th). The Warriors did come in seventh in steals with 8.2 PG and ninth in assists with 25.6 PG.
In terms of opponent points per game, the team allowed 115.0 PG (24th), which gave them a PF/PA differential of -8.2 PPG. Other deficit-creating stats include an opponent field-goal percentage of 47.6 FG% (24th), three-point rate of 38.9% (30th), and rebound per game rate of 46.5 (26th). They were also 23rd in turnovers with 14.7 PG. Also, opponents made 4.9 BPG (17th) and 8.2 SPG (27th).
Golden State Roster
Numerous players, including starters, are listed as being day-to-day. Most, if not all, of those players will be active by December 22 and 23 when the NBA begins regular-season play. Stephen Curry is back, and that is huge. In front, Draymond Green is a versatile and tough power forward. Plus, the rest of the starters offer this team solid, if not premium, performance potential. Golden State is also deep on the bench. However, as Curry goes so too do the Warriors.
Golden State Preview – Backcourt
Last year, star point guard Stephen Curry suffered a hand injury that kept him out of the lineup for most of the season. Curry played just five games. In 11 seasons, he's averaged 23.5 PPG, 6.6 APG, 1.7 SPG, and 4.5 RPG. A 47.6% field-goal, 43.5% three-point, and 90.6% free-throw shooter, Curry is one of the best point-producers in the game. On another level, he's the guy on the court who makes this team run, connect, and win.
Shooting guard Andrew Wiggins came to Golden State partway through last season. He played 12 games with the Warriors. Wiggins starts his seventh NBA season this year. His career stats are solid, 19.7 PPG, 4.4 RPG, and 2.3 APG. A 44% field-goal shooter, he's also good on 33% of his threes.
Warriors Preview – Frontcourt
Small forward Kelly Oubre Jr. played with the Suns last season, after coming to Phoenix from Washington the prior year. Last season, he averaged 18.7 PPG, 6.4 RPG, and 1.3 SPG. He shot 45.2% from the field and 35.2% from downtown. Power forward Draymond Green (Day-to-Day), who missed much of last season, is still dealing with a sore left knee. However, he's making progress towards playing in the regular season. Green is a topnotch defender who also offers about 10 PPG and 8 RPG. Once healthy, he'll be a major force in the paint.
Center James Wiseman (Day-to-Day), who was this year's number two overall draft pick, is out having tested positive for COVID-19. Our Golden State preview 2020 – 2021 expects him to be in the lineup soon, and he should be a solid force on this team. His college career involved him playing in just three games, as he was suspended by the NCAA due to his mother having received over $11,000 from a high school basketball coach. Wiseman and his mom moved from Nashville to Memphis and the star center played for that coach, Penny Hardaway. Despite his lack of college experience, Wiseman is expected to be a standout due to his athleticism and size. He stands 7-1 and has a wingspan of 7-6, which makes him a defensive juggernaut. In those three games with Memphis, he averaged 19.7 PPG, 10.7 RPG, and 3.0 BPG.
Warriors Bench
Coming in to sub at point is the dependable Brad Wanamaker, an accurate shooter who spent his first two seasons with the Celtics, and Jordan Poole, who comes back to the Warriors for his second NBA season. Poole, who also rotates in at shooting guard, averaged 22.2 MPG, 8.8 PPG, and 2.4 APG. Damion Lee also backs up the two-guard spot. In his second season with the Warriors, he averaged 12.7 PPG, 4.9 RPG, 2.7 APG.
The frontcourt is deep in backups. Small forwards Kent Bazemore and Juan Toscano-Anderson. Bazemore, a long-time veteran, spent last season with Sacramento and Portland. Last season, he averaged 9 PPG, 1.1 SPG, and 4.2 RPG. He's a solid shooter when in the paint and from the arc. In his initial NBA season last year, which was with the Warriors, Toscano-Anderson was also accurate from virtually anywhere on the court. He's a sound sub. Power forward Eric Paschall, who was also a rookie last season, averaged 14.0 PPG and 4.6 RPG. Kelly Oubre Jr., who comes to the Warriors from the Suns, started 55 games last season, averaging 18.7 PPG, 6.4 RPG, and 1.3 SPG.
Finally, Kevon Looney and Marquese Chriss come in to relieve the center position. Looney, who starts his sixth season with Golden State, averaged 13.1 MPG while putting up 3.4 PPG and 3.3 RPG. Last year, four-year veteran Chriss played his first season with the Warriors. In 2019-2020, he averaged 9.3 PPG, 6.2 RPG, and 1.1 BPG.
Golden State Preview 2020 – 2021 – Coaching
Warriors coach Steve Kerr has been with the team since 2014. In that time, he's coached Golden State to three NBA Championships (2015, 2017, and 2018). In 2015-2016, he was NBA Coach of the Year. Last season was definitely Kerr's worst as a coach. By the way, the Warriors are the only NBA team he has ever coached. Kerr has never served as an assistant.
Kerr embraces a fast, loose, and disciplined offensive approach while enabling his team to play solid defense. Our Golden State preview 2020 – 2021 notes that the Warriors quickly transition, making them especially dangerous and productive. Kerr gets to know each of his players. He works hard to align their strengths in a manner that will allow each one to contribute as much as possible while ensuring the players are all on the same page as far as the game plan is concerned. For Kerr a huge part of his job is effective communication.
Golden State – Pluses and Minuses
Stephen Curry
Top-notch starters and backups
Coach Steve Kerr gets the job done
Must put last season behind them
Stay healthy!
Los Angeles Lakers are tough to beat
Golden State Preview 2020 – 2021 – Final Word
Our Golden State preview 2020 – 2021 finds that this team is back. Stephen Curry is healthy, which is great news. Plus, the Warriors have a very fine mix of skilled and experienced vets and talented younger players. The addition of Wiseman at center is huge. As long as the starting five stay healthy, the Warriors, who also enjoy strength coming off the bench, should be highly competitive. We do expect them to be back to the playoffs this season.
Golden State Projection – 49-23 Second-Place – Pacific Division