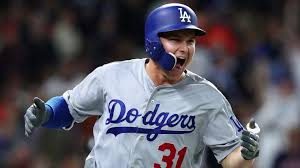 Our Giants vs Dodgers preview and pick has LA at +100 with a -1.5 run line. We predict in this Giants vs Dodgers preview that San Fran will be challenged by Los Angeles' pitching and hitting. As a team, the Los Angeles Dodgers (3-1), who scored 42 runs over their first four games of the 2019 season, are batting .327. The club's OPS is 1.086. On the other hand, the San Francisco Giants (1-3) are batting .177 and have posted an OPS of .516. In their first four games, SF has scored five runs. Over the weekend, LA took three-of-four from the Arizona Diamondbacks, while SF lost three-of-four to the San Diego Padres. The two teams will meet today, Monday, April 1 at Dodger Stadium. Start time is 10:00 pm ET.
Pitching Matchups – San Francisco and Los Angeles
Lefty Drew Pomeranz starts for the Giants. Last season with the Red Sox Pomeranz made 26 appearances with 11 starts. He was 2-6 with an ERA of 6.08 and WHIP of 1.77. The season prior with Boston, Pomeranz put up his best numbers, starting 32 games and posting a 17-6 record. His ERA was 3.32 and WHIP 1.35. He'll be trying to recapture some of that success tonight. Pomeranz offers a 92-mph four-seam fastball that entices a lot of swings and misses. His curve has decent movement, but he uses it rarely. He's also got a hard changeup and a sinker. He uses these less than his curve. This Giants vs Dodgers preview and pick notes that in spring training this season, Pomeranz pitched 16 innings and went 2-1. He struckout 15 and has an ERA of 2.81.
Dodgers lefty Julio Urias will also be trying to recapture his former success. But his occurred two years ago in his first MLB season. In 2016, he had 15 starts and 18 appearances and earned a record of 5-2. His ERA was 3.39. In 2017, Urias made five starts and was 0-2. He posted an ERA of 5.40. Last season, the promising lefty pitched just four innings. His troubles stemmed from an injury that was announced in June 2017. The injury resulted in season-ending anterior capsule surgery on his left shoulder. Urias primary pitch is a 95-mph four-seam fastball. Occassionally, he'll sprinkle in a change, slider, or curve. In spring training, Urias threw 15 2⁄3 innings, striking out 15 and posting an ERA of 1.72
Hitting – Giants and Dodgers
San Francisco third baseman Evan Longoria (.364 BA, 2 RBI, 1 HRs), who tops the Giants in batting average, RBI, and homers, is listed as day-to-day. If he can play, that will be a help. If he cannot play, third baseman Pablo Sandoval, who's hitting .333, is a sound sub. Shortstop Brandon Crawford, who's hitting .250, has shown some life. He has three hits with one being a double. Buster Posey, Brandon Belt, and Yangervis Solarte are all, at this point, underachieving.
Our Giants vs Dodgers preview and pick finds that for Los Angeles, Cody Bellinger (.500 BA, 8 RBI, 4 HRs), A.J. Pollock (.412 BA, 6 RBI, 1 HRs), and Joc Pederson (.467 BA, 5 RBI, 3 HRs) have been on fire. Also exceptionally hot at the plate are Enrique Hernandez, Austin Barnes, and Alex Verdugo. The three have a combined BA of .444. Together, Bellinger, Pollock, Pederson, and Hernandez have stroked 10 four baggers and five doubles. This is a very dangerous line up which is tough to work around. In their first home series of 2019, LA killed the Diamondbacks. They look to continue the carnage in this series.
Keys to the Game
Urias using his four-seamer effectively and going five string innings
Likewise, a strong outing by Pomeranz will bost SF
Can Dodger hitter be shut down or, at least, slowed down?
Will Giants start to find their bats
Manager Dave Roberts adds edge for LA
MLB Giants vs Dodgers Preview – Our Pick
Los Angeles is running on all cyclindars, while the Giants are in need of a valve job. We think both pitchers will come on strong, but we can't imagine SF really turning up their offense to the point that they will be able to overcome LA. Our Giants vs Dodgers preview offers Los Angeles with a 1.5 runl line as our pick.
Summary Giants vs Dodgers Preview & Pick: Los Angeles Dodgers -1.5 (+100)