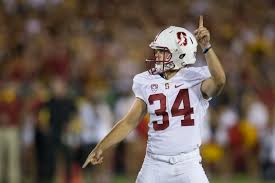 In our free pick Stanford playing UCLA, the Stanford Cardinal team is ranked seventh in the nation and has a record of 2-0. They are 1-0 in the PAC-12, having beaten USC, and are thought to be one of the two top teams in the North Division. The UCLA Bruins, who are not ranked nationally, are considered to be the best team in the PAC-12 South. However, overall in the PAC-12, Stanford is seen as being second and UCLA seventh. That reasoning makes the spread on this game interesting, as the Cardinal club is at -1.0. They are not heavily favored. It's interesting to note that UCLA dropped out of the national rankings in week one when they lost to Texas A&M. They have won their last two and come into this game with a 2-1 record.
Stanford Offense vs. Bruins Defense
The Cardinal offense has outscored opponents 53 to 23. QB Ryan Burns has played well, tossing two TD passes and one INT. With a completion rate of 68.8%, he offers keen accuracy. His go-to receiver, Christian McCaffrey, is also the team's top rushing threat. On 53 carries, McCaffrey has 298 yards and three touchdowns, averaging 5.6 YPA. He's also caught 10 passes for 106 yards total and one TD. Michael Rector, also a dual threat, has two scores total. By the way, Stanford also has a highly accurate placekicker, Conrad Ukropina. He's six for six on extra points and three for three on field goals, including one from plus-50.
Is the Bruin defense good enough to stop the Cardinal offense? In three games, they have allowed 66 points or an average of 22 PPG. They've grabbed four interceptions in three games and have two sacks. Although the INTs are fairly impressive, the lack of pressure on the QB is not. If they can't crank it up a bit for this game, they may find McCaffrey running up yards by catching and carrying the ball. Last week, with the help of junior defensive lineman Eddie Vanderdoes, senior defensive end Takkarist McKinley, and senior defensive end Deon Hollins, they neutralized BYU's offense. They need to do the same here to win.
UCLA Offense vs. Cardinal D
Sophomore QB Josh Rosen has played fine but not as good as the Bruins would like. It's true that he's throw four TD, but he has also served up an equal number of picks. Plus, the immobile Rosen, who has been sacked seven times, appears to have line woes. He'll be looking to connect with Darren Andrews (10 REC, 16.0 AVG, 1 TD) and Kenneth Walker III (9 REC, 16.5 AVG, 1 TD). Soso Jamabo (34 ATT, 181 YDs, 5.3 AVG, 3 TDs) anchors the running game, while Bolu Olorunfunmi (22 ATT 83 YDs 3.8 AVG, 2 TDs) offers another fine rushing option. Unlike Stanford, the Bruins do not have accurate field goal kicker.
The Cardinal defense has sacked opposing quarterbacks nine times. That's bad news for Rosen, who has been brought down behind the line seven times. Stanford has a top linebacking unit, which include sophomore Joey Alfieri. The Cardinal D has limited teams to just under 12 PPG. They should do well against the Bruins, especially if they can neutralize their rush attack.
Free Pick Stanford Playing UCLA
This game is expected to be close, but we see Stanford as winning by at least seven points. It's true that the Bruins have rebounded from their first loss, but they don't appear to be up to beating the Cardinal club. A major problem is UCLA's lack of offense when it comes to field goals as opposed to Stanford's exceptionally accurate kicker. Kickoff is at 8 p.m. ET on Saturday September 24. Our free pick Stanford playing UCLA is the Cardinal team at -1.0.
Our Free Pick Stanford Playing UCLA: Bet the Cardinal team at -1.0