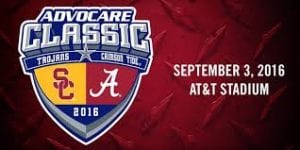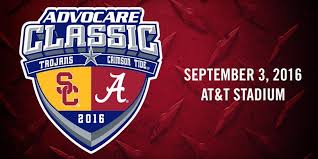 This is one of the biggest games of the first week of the 2016 NCAA Football season, and we've got a great free Alabama/USC college football pick for you. Number 20 USC plays number one Alabama in Arlington, Texas, on September 3 at 8 p.m. For both of these teams this is a gigantic game. The fact is both clubs have very tough schedules. USC has the roughest college football schedule in the nation and Bama's is in the top five. A win here means a lot to both clubs. Here's how this games looks.
USC Offense vs. Crimson Tide D
USC has two very important elements working for them on offense. The first is their O-line, which is perhaps the best in the PAC-12. The second is their receiving group, which is deep and fast. There are nine pass catchers with some sort of experience, including the sensational JuJu Smith-Schuster (89 REC, 16.3 YDs, 10 TDs) and the reliable Darreus Rodgers (28 REC, 10.3 YDs, 3 TDs). Overall experience at quarterback is limited, but in college ball that does not mean a lot. Max Browne (12 ATT, 8 COMP, 66.7 COMP%, 0 TDs, 0 INTs) gets the start. The frontline will be blocking for a solid running game that includes TBs Ronald Jones (153 ATT, 987 YDs, 6.5 AVG, 8 TDs) and Justin Davis (169 ATT, 902 YDs, 5.3 AVG, 7 TDs). The USC offense looks impressive.
Equally impressive is the Alabama defense. It may be the best in the nation. Last season, they allowed 15.1 PPG. They return seven of 11 starters. With whom will the Trojan frontline have to deal? The following players will work hard to get to Browne, DE Jonathan Allen (36 TKL, 12 SKs, 2.5 TFL), LB Tim Williams (19 TKL, 10.2 SKs, 2 TFL), and LB Reuben Foster (73 TKL, 2 SKs, 6 TFL). Together they had 18 QBH last season. Alabama is more than solid in every area. Look for SS Eddie Jackson (46 TKL, 3 TFL, 6 INTs) to be a factor tonight. By the way, this is a deep group of D-men. Consider MLB Ryan Anderson, who is not a starter. Last year he had 37 tackles, 6 sacks, 5.5 TFL, and 9 QBH.
Alabama Offense vs. USC Defense
Alabama will also start a relatively inexperienced quarterback. Expect to see Cooper Bateman (52 ATT, 37 COMP, 71.2 COMP%, 1 TD, 2 INTs) get the nod. Batemen has a great receiving unit that includes Calvin Ridley (89 REC, 11.7 AVG, 7 TDs), ArDarius Stewart (63 REC, 11.4 AVG, 4 TDs), and O.J. Howard (38 REC, 15.8 AVG, 2 TDs). The running game will feature Damian Henry (46 ATT, 157 YDs, 3.4 AVG, 1 TD) and Bo Scarbrough (18 ATT, 104 YDs, 5.8 AVG, 1 TD). Although relatively inexperienced, they are expected to step up in 2016. They'll be helped by a rock solid O-line.
The USC defense has had two suspensions, starting LB Osa Masina was suspended early this week and OLB Don Hill was sent home the other day. Both are charged in a rape case. The suspensions weaken a unit that certainly has some strong points, but, also, some holes. Just five starters return to the USC defense. They may have a very hard time controlling what should be a relentless Alabama offense.
Key for the Trojans is LB Porter Gustin (25 TKL, 5.5 SKs, 1.5 TFL). MLB Cameron Smith (78 TKL, 3 INT), SS Chris Hawkins (70 TKL, 2 INTs) and CB Iman Marshall (67 TKL, 3 INTs) will also be an important part of the pass defense. The USC frontline is a big worry. It's doubtful that they can control the Crimson Tide for much more than a quarter, if at all.
Free Alabama/USC College Football Pick
Bama's offense averaged 35.1 PPG last season. In the past seven seasons, they have averaged from 32.1 to 38.7 PPG. We expect the same this year. They are going up against a team that over the years has tended to hold opponents to about 25 PPG. But a team like the Tide has tended to score 35+ points against the USC D.
Our free Alabama/USC college football pick like Alabama at -11.5. The Tide defense looks to be overwhelming, while it's offense should be able to generate at least 30 points.
Free Alabama/USC College Football Pick: Alabama at -11.5