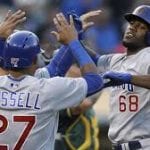 We've got an Oakland A's (46-61) and Chicago Cubs MLB pick as the Cubbies visit the West Coast. On Thursday, the A's managed a win against the Los Angeles Angels. That win stopped a five-game skid for the last-place team in the AL West. Last night the Chicago Cubs (67-41) arrived in Oakland and extended their four-game winning streak to five. The result was a 7-2 win by the club with the best record in the Majors.
Pitching Matchup
Jake Arrieta (2.75 ERA, 12-5, 1.06 WHIP) starts for the Cubs. Arrieta had a good first half of the season, nothing a dozen wins and losing two over 16 starts. However, the month of July has been abysmal for the righty. In five starts, he's 0-3 with a 4.88 ERA. In three of those games he gave up four or more runs.
Sonny Gray (5.84 ERA, 5-10, 1.52 WHIP) went 2-4 in July with an ERA of 7.79. His best month was April. After struggling in May, he seemed to get back on track in June before seeing his game come off the track last month. In his last start, which was on July 31, he lasted 3.1 innings, giving up seven runs on eight his.
Although neither starter has performed well recently, in our Oakland A's and Chicago Cubs MLB pick the visitors have the edge here. Arrieta has been solid for much of the season, while Gray has had a tough time putting it together and keeping his game focused.
Offense
Last night, the Cubs saw Jorge Soler return to the lineup after being on the DL for close to two months. He immediately smacked a three-run homerun. Last night also saw Kris Bryant, who's been struggling at the plate the last week, go 2-4. Chicago has quite a bit of power in Dexter Fowler, Anthony Rizzo, and Ben Zobrist.
The story isn't quite as positive for the Oakland A's. They need Jake Smolinski and Danny Valencia, two of their best hitters, to generate some offense. Valencia has had a good week at the plate and could get a few hits today. In many ways, for Oakland, it's less about "hitting" than about "timely hitting," with which they've had difficulty.
Oakland A's and Chicago Cubs MLB Pick
For this Oakland A's and Chicago Cubs MLB pick we're looking at the lines, which are pretty active. The Cubs started at -210 and are now at -172. The game starts just after 4 p.m. Watch the lines to get the best deal taking the Cubs with the moneyline. They may have bottomed out, but they might get down to -165 or so. We like the moneyline better than the runline, which offers Chicago with -1.5 runs at -110.
Oakland A's and Chicago Cubs MLB Pick: Cubs with moneyline at -172 or lower