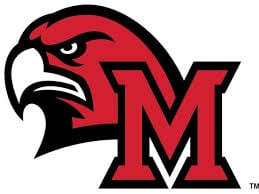 In our week 13 college football free pick Ball State plays Miami Ohio on November 22. The Ball State Cardinals (4-7 Overall, 1-6 MAC) and sit in last place in the Mid-American Conference West Division. Miami Ohio (5-6 Overall, 6-2 MAC) occupies second place in the MAC East Division.
The Cardinals are on a four-game losing streak. Their last win was October 15 against Buffalo 31-21. After that win, Ball State lost to Akron 35-25, #23 Western Michigan 52-20, Eastern Michigan 48-41, and Toledo 37-19.
Miami (OH) started the season with six straight losses. Since their last loss, which was to Akron 35-13 on October 8, they've won five in a row. Those five wins were against Kent State 18-14, Bowling Green 40-26, Eastern Michigan 28-25, Central Michigan 37-17, and Buffalo 35-24.
Ball State Cardinals
Ball State brings a productive passing and rushing offense to the field. However, their defense offers any score they put up on the board very little protection. The Cardinals are scoring 27.6 PPG while averaging 450.4 yards of offense per game. Ball State is passing for 232.9 YPG and running for an amazing 217.5 YPG.
Sophomore QB Riley Neal (61.1 COMP%, 12 TDs, 11 INTs, 0 Sacks) leads the Cardinal offense. Neal is a quick and efficient runner who has not been sacked once this season. On the ground, he is averaging 4.0 YPA and has seven touchdowns. Prolific RB James Gilbert (233 ATT, 1215 YDs, 5.2 AVG, 12 TDs) offers a huge amount of offense. Top receivers are KeVonn Mabon with two TDs and Damon Hazelton Jr. with four touchdowns.
The Cardinal defense is giving up 30.9 PPG. They're allowing opponents 472.8 yards of offense per game with 314.2 yards in the air. The other 158.6 yards of offense are gained on the ground.
Miami (OH) Redhawks
Over the course of the season, the Redhawks have been averaging 23.6 PPG. But over the past five games, all of which have been wins, they've averaged 31.6 PPG. Of their 354.1 yards of offense, they have posted on average 214.1 in the are and 140.0 on the ground.
Originally, QB Billy Bahl (55.2 COMP%, 8 TDs, 4 INTs, 19 Sacks) ran the offense. He did so for six games, and Miami (OH) lost every one. After the Redhawks switched to QB Gus Ragland (58.8 COMP%, 12 TDs, 0 INTs, 8 Sacks), things started to change. Ragland manufactured drives, did not toss picks, and put lots of points on the board. Two receivers, James Gardner and Jared Murphy, are his primary go-to receivers. Each has caught five TD passes. RBs Alonzo Smith (148 ATT, 605 YDs, 4.1 AVG, 3 TDs) and Kenny Long (76 ATT, 481 YDs, 6.3 AVG, 2 TDs) are solid ground gainers.
On defense, the team is limiting opponents to 24.7 PPG. Over the last five games, that average is just 19.2 PPG. Average opponent yards in the air per game average 217.4, while yards on the ground are at 129.7.
College Football Free Pick Ball State Plays Miami Ohio
The Miami Ohio Redhawks have found their game as of late. At the same time, the Ball State Cardinals seem to have misplaced their game. In our college football free pick Ball State plays Miami Ohio with the Redhawks at -7.5 We're going with Miami (OH). The game will be played at 7:30 p.m. ET on Tuesday, November 22.
College Football Free Pick Ball State Plays Miami Ohio: Miami (OH) at -7.5