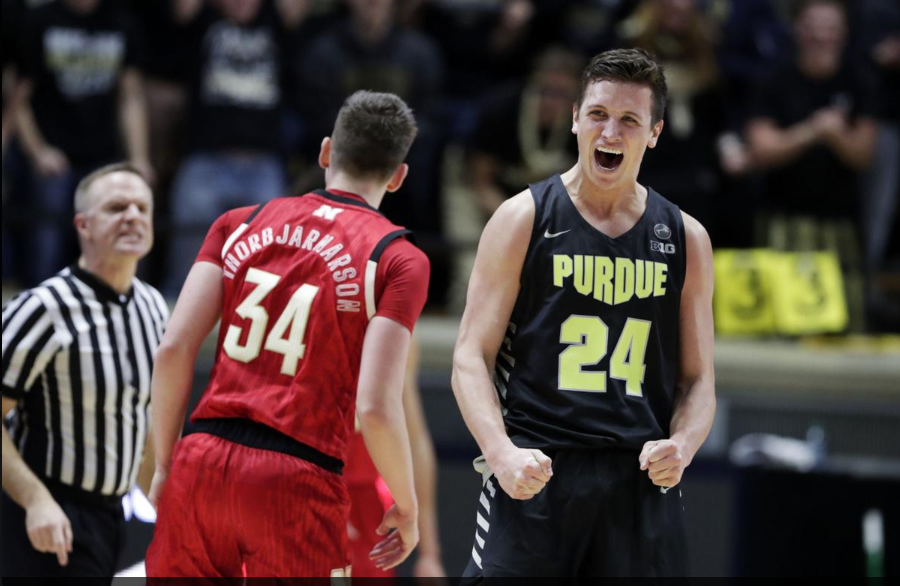 Tuesday night's college basketball schedule gets started with a top-25 matchup in the Big Ten between the no. 12 Purdue Boilermakers and no. 24 Maryland Terrapins. Purdue beat Maryland by two points in College Park earlier this season, and now the Boilermakers are 1-point road favorites for Tuesday's game.
Rather quietly, Purdue has become one of the hottest teams in the country. The Boilermakers have won eight straight games, taking them to 10-2 in Big Ten play and 17-6 overall. During that stretch, Purdue has beaten the likes of Wisconsin, Ohio State, and Michigan State and climbed within half a game of first place in the Big Ten.
Meanwhile, Maryland has hit a rough patch in their schedule. The Terps have lost three of their last five games, falling to 9-4 in conference play and 18-6 overall. They also have road games coming up against Michigan and Iowa, so things could get worse if they can't break out of their funk against Purdue. Maryland isn't at risk of losing their spot in the NCAA Tournament, but they're definitely not helping their seeding right now.
Sticky Fingers
Part of Maryland's problem over the past month has been their propensity for turning the ball over. The Terps have lost the turnover battle in nine straight games, and against quality teams, it's been too much to overcome. When they click offensively, Maryland is one of the deepest teams in the Big Ten, with six players who average at least eight points per game. However, they're learning that they can't afford to give away possessions in such a deep conference.
The Terrapins are also struggling with the consistency of some of their top scorers. Bruno Fernando has been a rock inside all season. However, freshmen sharpshooters Eric Ayala and Aaron Wiggins have also gone cold during the team's recent skid. More importantly, Anthony Cowan Jr., who leads the team with 16 points per game, has failed to reach double figures in three of his last five games. If he isn't scoring, it's tough for Maryland to win.
On Fire
During their eight-game winning streak, the Purdue offense has been on fire. It starts with junior guard Carsen Edwards, who averages close to 25 points per game but has scored over 30 twice in his last eight games. When teams focus too much on him, it typically leaves senior Ryan Cline open, which explains why he's making 44% of his three-point attempts this season. On any given night, Cline can get hot from deep and give teams the impossible task of containing both him and Edwards.
Of course, the Boilermakers are able to complement their dynamic backcourt with a strong frontcourt. Matt Haarms, a 7'3'' center, doesn't always score, but he almost always helps Purdue dominate on the boards. Between Haarms and forwards like Trevion Williams and Evan Boudreaux, Purdue is able to pummel teams in rebounding margin, making it all the more difficult for opposing teams to keep pace once Edwards and Cline get it going offensively.
Better Than That
Oddly enough, Purdue beat Maryland in December despite being out-rebounded and Cline going 0 for 6 from three-point range. The Boilermakers are much better now than they were over two months ago. Meanwhile, Maryland has become less consistent and reliable. Bet on Purdue to win and cover the 1-point spread on Tuesday.