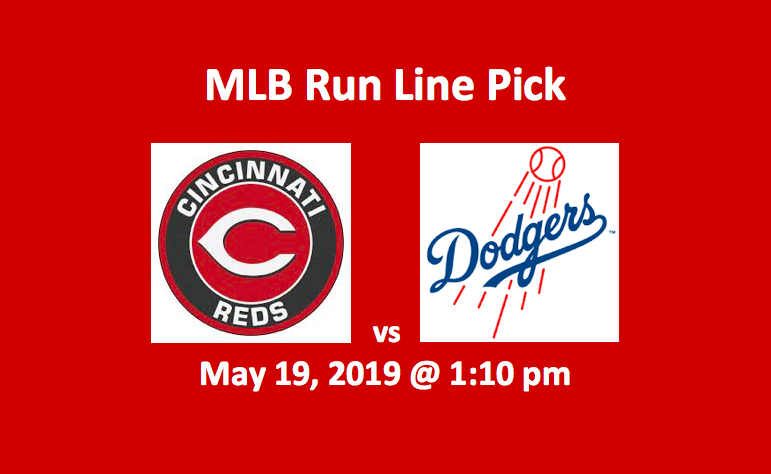 This Cincinnati Reds vs Los Angeles Dodgers pick for May 19, 2019, has LA heavily favored. Our Cincinnati Reds vs Los Angeles Dodgers pick has the run line at -115 (-1.5) for the visiting Dodgers, while the money line is at -185. The home team Reds with the money line are at +175. The game will be played at the Great American Ball Park in Cincinnati, OH with the first pitch scheduled to be thrown at 1:10 pm ET. The teams have split the series thus far at one win each. That makes today's matchup the rubber game.
The Cincinnati Reds (21-25 Overall, 12 -10 Home) are last in the NL Central. The Red Legs are 6.5 games behind the division-leading Chicago Cubs. Cincinnati is 6-4 for its last 10 games. They won yesterday, beating the Dodgers 4-0. The Los Angeles Dodgers (30-17 Overall, 11-11 Away) lead the NL West with the second-place Arizona Diamondbacks 4.5 games behind them. Over their last 10 games, the Dodgers are 7-3.
Cincinnati Reds vs Los Angeles Dodgers Pick – Pitching
The Dodgers will start lefty Hyun-Jin Ryu (5-1 W/L, 1.72 ERA, 0.73 WHIP). Over his last four starts, he is 3-0-1. In those four games, he went 32 innings and allowed just three runs on 17 hits. In that time, Ryu struck out 31 and walked just one. His last two games were both shutouts. Ryu features a 91mph, four-seam fastball that features average velocity and solid downward movement. His 80 mph change sinks nicely, while Ryu's 87 mph cutter and 90 mph sinker are effective in generating ground balls. He also has a slow curve, which he rarely uses.
The Reds put righty Tanner Roark (3-2 W/L, 3.50 ERA, 1.47 WHIP) on the mound. Over his last four starts, Roark has tossed 20.2 innings, allowing 11 runs. His record during that time is 2-1-1. In those four games, Roark's allowed nine runs on 19 hits while striking out 19 and walking nine. Roark uses a 92mph sinker, which utilizes a two-seam fastball grip. His 86mph slider and 92mph four-seam fastball are good but not as effective as one might like. The sharp downward bite of his 76mph curve generates a good number of fly balls.
Reds vs Dodgers – Offense
Dodgers first baseman Cody Bellinger is hitting .409. He's smacked 16 homeruns and driven in 42 runs. Bellinger also has 10 doubles and seven stolen bases. He's a dynamic, offensive powerhouse. Centerfielder Alex Verdugo is hitting .317, while second baseman Max Muncy has 29 RBI and left fielder Joc Pederson 14 round trippers. As a team, LA is batting .254. Opponents are hitting .220 versus Dodger pitching.
The Cincinnati Reds are hitting just .217. Opponents are batting .229 against Cincinnati pitchers. At .296, shortstop Jose Iglesias tops all Cincinnati batters. Third baseman Eugenio Suarez, who's hitting .263, has put 13 balls over the fence while driving in 31 runs. Yasiel Puig, who plays right field, is hitting just .210. But he has driven in 25 runs, hit seven homers, and stolen seven bases.
Our Cincinnati Reds vs Los Angeles Dodgers Pick
We really do like the Dodger starter, Ryu, in this one, and the team's overall offense. The Reds have an offense that is struggling to simply hit. Cincinnati's RS/RA differential stands at +29, while the Dodgers are at +60. We expect that the Dodgers will get back on the winning track today. Our Cincinnati vs Los Angeles preview and pick is the visiting LA team. We are taking them with the run line (-1.5) and at -115.
Summary Run Line Pick – Cincinnati Reds vs Los Angeles Dodgers
Los Angeles Dodgers run line (-1.5) at -115