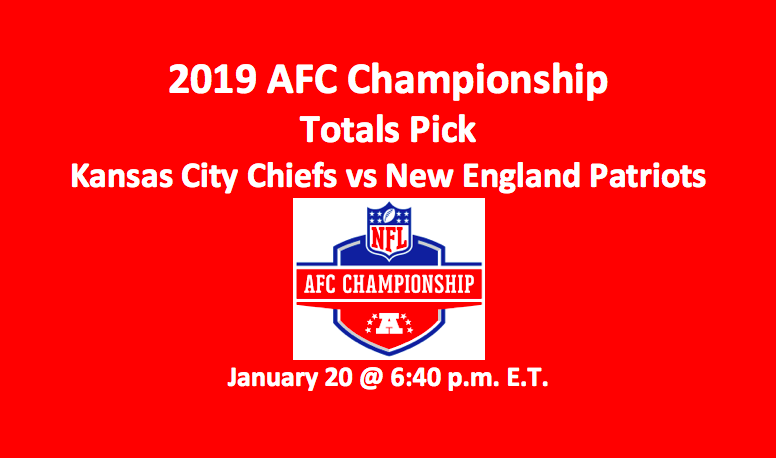 The over/under for the New England Patriots (11-5 Overall, 3-5 Away) at Kansas City Chiefs (12-4 Overall, 7-1 Home) pick is at either 56.0 or 56.5. When these two teams met during the regular season in October at Gillette Stadium in Foxboro, MA, they scored a total of 83 points. Our Chiefs vs Patriots totals pick features two of the highest-scoring teams in the NFL. And the KC defense can definitely give up some points. Here's our Chiefs vs Patriots totals pick.
Stats and Facts
The Chiefs are scoring 35.3 PPG. The Patriots are good for 227.3 PPG. Also, KC is giving up a little over 26 PPG and the Pats are right around 21 PPG. In the last 10 games between the Patriots and Chiefs, New England has averaged 27.6 PPG and Kansas City 26.3. That's a total of 53.9. That total is not quite at the over, but it's very close. We can see a score of something like 30-31. That does get us over.
Edge: Over
Offensive Weapons
You've got to believe that either Tom Brady and Patrick Mahomes are going to be on their game or they are not. There's not much to back up the notion that they will underachieve. Both teams have solid, talented, and deep receiving corps. Plus, the Patriots have a very productive rush attack. We can see these two teams scoring about 30 points each. By the way, between Brady and Mahomes this season, there were 79 TD passes thrown. That gets you 35 points. You're more than halfway there.
Edge: Over
Chiefs vs Patriots Totals Pick – Five Key Trends
In four of NE's games playing KC the over has been hit
Five of KC's last seven games, total has gone over
In 11 of KC's last 14 home games, the total has been under
Last time these two teams met 83 points were scored
Four of last five games on the road, NE total's been under
Edge: Even
Our New England at Kansas City Over/Under
In our Chiefs vs Patriots totals pick, we like the over. Both the Patriots and Chiefs put a lot of points on the board last week. New England had 41 and Kansas City 31. With all of those points being scored, yes, we like the over at 56.0. Be sure you check out our Pats and Chiefs spread pick.
Summary Chiefs vs Patriots Totals Pick – Over 56.0