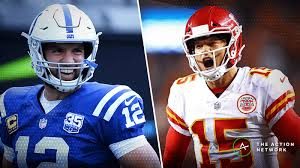 Along with the spread pick for the Indianapolis Colts (10-6) at Kansas City Chiefs (12-4) divisional playoff game, we're also offering the over/under on that game, as well as the spread pick on the Cowboys at Rams contest. The Colts play the Chiefs today, Jan. 12 at 4:35 pm ET at Arrowhead Stadium in Kansas City, MO. Our Chiefs vs Colts totals pick offers an over/under of 54.5. At first glance this looks like an easy over. But that might not be the case. Here's a look at stats, trends, and offensive vs defensive strengths.
Points For vs Points Against
Here are some quick and basic stats. The KC offense has been good for 35.3 PPG, while Indy for 27.1 PPG. Adding those two together gives us a total of 62.4. The Colts D kept teams at 21.5 PPG, and they held a fairly productive Houston offense to seven points last week. The Chiefs allowed opponents 26.3 PPG. If both teams hit their average for PA, the total comes to 47.8 PPG. That indicates the under at 54.5.
In considering the various weapons that each offense brings to the field, which includes premium passing QBs, a productive group of receivers on both sides, and solid rush attacks, we can see each team as scoring its share of points. We're liking the over here.
Edge: Over
Defense – Recent Performance
Chiefs vs Colts totals pick notes that against various offenses, this Colts club has given up 34 or more points. That occurred against New England, Cincinnati, Houston, the NY Jets. The Patriots numbers, where the Colts scored 24 and the Pats 38. This game should be closer, maybe 31-28. At the same time, along with holding the Texans to seven points last week, in their last five regular-season games, Indy allowed on average just 14.2 PPG. That does not sound like a team that will be part of an over game.
In their last five games of the season, Kansas City allowed an average of 25.4 PPG. If you take the Oakland game out of that, where the Raiders scored three points in their final game of a dismal season, then in the four prior games, which included the Chiefs' first regular-season game with Oakland, opponents scored on average 31.0 PPG. Add in a fifth game, against the LA Rams, and that PA goes up to 43.8 PPG. As of late, overall, the Chiefs have been allowing a lot of points. There's a good chance they'll do the same today.
We're thinking, even with an Indy D that may lower the Chiefs' output by about six points to 29.3 points, that the over is reachable. After all, Luck and company should be able to put up at least 27 points today, if not more.
Edge: Over
Past Totals Performances
in six of the last eight times these two teams met, the score has gone under. Also, nine of Indy's past 13 away games, the total has gone under. The same is true in KC's past 10-of-13 home games. More times than not, it's been about the under. But that does not mean today is about the under. Despite history and over performance for a majority of the season, recent evidence says go with the over. This info, however, favors the under.
Edge: Under
Our Chiefs vs Colts Totals Pick
Our Chiefs vs Colts totals pick can see Luck and company scoring about 27 points today. At the same time, we like KC to come in at around 30 points. That comes to 57, which is just over. As we've noted above, we do think that points will be scored. Our Chiefs vs Colts totals pick is the over at 54.5. Also see our spread pick for Kansas City versus Indianapolis.
Summary Chiefs vs Colts Totals Pick: Over 54.5