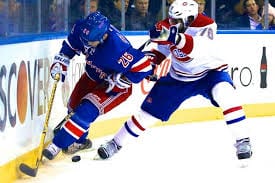 Game six of this first round playoff series finds the New York Rangers ahead of the Montreal Canadiens three games to two. This game will be played on the Rangers' home ice, Madison Square Garden. This has been an interesting series with one team taking home ice away from the other and vice versa. Our Canadiens play Rangers Stanley Cup free pick has Montreal at -110, and NY at -100. The over/under of 5 goals is at -140 for the over and -145 for the under.
Montreal and New York Series
In game one of the series, the Rangers beat the Canadiens in Montreal 2-0, taking away home ice from the Canadiens. The next game saw Montreal tie the series up 1-1 by beating the Rangers in OT 4-3. Game three, which was played in New York, went to the visiting team 3-1. With that win, Montreal took back home ice as they led the best of seven series 2-1.
But this is a series of flips and flops. New York, at home, took down Montreal 2-1. That neutralized the home ice advantage, as the season was tied 2-2. The series then went back to Montreal where, in overtime, the Rangers took the series lead three games to two beating Montreal 3-2.
Canadiens at Rangers: Game Six
This is a series that has seen Ranger goalie Henrik Lundqvist step up big time, as he's had to deal with a lack of defense. In the last game, a 3-2 OT win, he has 34 saves. Lundqvist has a save percentage of .944 and goals against average of 1.83.
Ranger center Mika Zibanejad is +2 and has had one goal and two assists, while right wing Jesper Fast, who has two goals and one assists, brings a plus/minus of plus four to tonight's game. Right wing Rick Nash also has two goals and one assist.
Montreal captain Max Pacioretty has not yet had a goal in the series. He's at -1. Right wing Alexander Radulov has been the Canadien offense in this series, scoring two goals and notching four assists. Center Tomas Plekanec is one of three players with one goal and two assists. Like many Canadien players his plus/minus is in deficit. He's a -4.
Montreal goalie Cary Price has played well notching a 1.86 GAA. He's sporting a solid .936 save rate. Price is suffering from a lack of output from some of Montreal's top scorers.
Canadiens Play Rangers Stanley Cup Free Pick
If the trend continues, Montreal should take tonight's game and even up the series. Yet, we have to go with the Rangers at home in this one to finish off the series. Our Canadiens play Rangers Stanley Cup free pick is New York at -100. In a series that has been tight and where both goalies are averaging around 1.80 GAA, we like under five. The game will be played at 8:05 p.m. tonight.
Review the status of all teams in the NHL Eastern Conference playoffs and those in the Western Conference. Get the information you need to make smart bets.
Canadiens Play Rangers Stanley Cup Free Pick: Rangers at -100 and under 5 goals