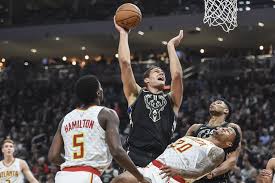 Along with our Milwaukee Bucks vs Utah Jazz spread pick for Jan. 7, we're offering the over/under on this game. The Utah Jazz (20-20 Overall, 12-12 Away) are at the Milwaukee Bucks (27-11 Overall, 18-4 Home) tonight at 8:00 pm ET. The Jazz, who are finishing up a four-game road trip, have won two games in a row. The Bucks finish a very successful home stand tonight, as they play their sixth straight contest in Milwaukee. Although the Bucks lost their last game, they are 8-2 over their last 10. Our Bucks vs Jazz totals pick has the over/under at 222.0. Here's how we see tonight's scoring going.
Points For and Allowed
The Bucks have been averaging 117.7 PPG, while the Jazz have been good for 108.0 PPG. That would get us to 222 fairly easily. At the same time, Milwaukee is allowing opponents 108.2 PPG and the Jazz 105.7. Reconciling the average PF per game of the two teams, we get 112.9, while PA averages out to 106.9. Adding together those two figures gets us to 219.8, which is under.
Edge: Under
Recent Performance
Over the past five games, the Jazz have allowed 105.8 PPG. They've scored 113,8 PPG. Those two figures when added together total 219.6. In their last five losses, Utah has averaged 101 PPG, while allowing 108.2 PPG. The total of 209.2 is well below the under.
Our Bucks vs Jazz totals pick research finds that over their last five contests, Milwaukee has averaged 124.4 PPG, while their opponents have scored 108.8 PPG. Combining those numbers takes us well past the over of 222.0. In the team's last five wins, they've averaged 123.0 PPG. At the same time, Opponents put up on average 103.2 PPG. Again, adding those two stats together gets us over, as the total comes to 226.2 points.
We're projecting a Milwaukee win here. Taking the Bucks' winning average of 123 PPG over their last five games, and the Jazz's losing average of 101 PPG, we hit 224 points. Again, the over looks good.
Edge: Over
Key Points to Consider
Our Bucks vs Jazz totals pick provides the following key points of interest.
Essential point scorers on both teams are healthy
Milwaukee has been scoring well even when losing
Bucks in last 5 losses scoring 105.8 & Jazz in wins 118.6 indicates the over
Totaling Jazz and Bucks points from last game gets us to 226
Over likely, as both teams, after playing games on Jan. 4 & 5, come back after a day of rest
All of the number crunching and reviewing of team rosters and player health that we've done has us leaning towards the over.
Edge: Over
Bucks vs Jazz Totals Pick
We do think that these two teams are primed to get to about 226 or 228 points tonight. The latest trends indicate that this is very likely. Also, hitting the over does not seem to be influenced by who wins. Therefore, our Bucks vs Jazz totals pick is over 222.0.
Summary Bucks vs Jazz Totals Pick – Over 222.0