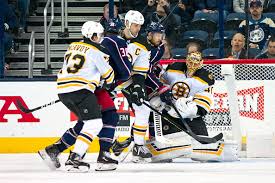 Our Boston Bruins vs Columbus Blue Jackets series preview will look the matchup presented in the clubs' second-round matchup. We see both teams' goaltending and first round schedules factoring into this matchup. Boston took two of the three games between the clubs in the regular season. Our Boston Bruins vs Columbus Blue Jackets series preview expects this matchup to be close. The first game of this Stanley Cup Round Two series will be played on Thursday, April 25 at 7:00 pm ET at Boston's TD Garden.
Boston Bruins vs Columbus Blue Jackets Series Preview – Goaltending
Both teams' netminders played well in the opening round of the playoffs. Tuukka Rask was a wall for the Bruins in games six and seven for Boston. He was by far the best player on the ice in game seven and was the biggest difference maker. Rask stopped 32 of 33 shots that he faced while Boston was outplayed much of the night. He came up with big saves when needed, and prevented Toronto from gaining momentum at key junctures in game seven. The Boston goalie finished the opening round with a .928 save percentage and a 2.32 goals against average. Rask had mixed results against Columbus during the regular season. He was pulled after allowing five goals on 24 shots in his first appearance. He played much better in his next game against the Blue Jackets stopping 32 of 34 shots in a win.
Rask will face off against Sergei Bobrovsky. Bobrovsky had a very strong opening round as well. After a shaky first period in game one against Tampa Bay, Bobrovsky was almost unbeatable in the rest of the series. He finished the four-game sweep with a .932 save percentage and a 2.01 GAA. Bobrovsky struggled against Boston during the regular season. In his two starts against the Bruins, he allowed eight goals on 54 total shots. He was pulled in the teams' last meeting.
Columbus' First Round Domination
The Blue Jackets dominated the best team in the NHL in the first round. Tampa Bay had a historic season but was brutally outplayed in all areas by Columbus. The Blue Jackets haven't had a game in nine days. They are likely to show a little rust in game one of the series but they have already shown that they can shake off a rough start.
They had their offense going through the entire series, averaging 4.75 goals per game. The Jackets were led offensively by Matt Duchene and Artemi Panarin. Duchene scored his first ever playoff goal and has been on fire ever since. He has a team-leading three goals and seven points. Panarin finished the series with two goals and three assists. While many of their shots went in, the Jackets will need to put more pucks on net in the second round. They averaged the second least shots per game of any post season team. Boston was stingy in the first round and have a talent goaltender and D-corps. The Columbus offense ran into a cold netminder in the first round, but Rask has been on his game lately.
A major focal point in this series will be the play of the Blue Jackets' defensemen. They combined for 15 points in the first round including four goals. The top pairing of Seth Jones (2-2-4) and Zach Werenski (1-4-5) was particularly impressive. Both played over 25 minutes a night against the Lightning's top ranked offense. They finished the series with +3 and +4 plus-minus rating respectively. David Savard was also impressive playing 24 minutes per game.
Bruins' Emotional Matchup Against the Leafs
Toronto was able to take the Bruins to the brink of elimination for the second straight year.
After their second game seven win over the Leafs in as many years Boston will look to carry their momentum through into the second round. The series was back and forth with both teams winning games at home and on the road.
A noticeable storyline for the Bruins in this series will be the formation of their top two lines. Coach Bruce Cassidy opted to break up his top line of Patrice Bergeron (3-2-5), Brad Marchand (4-5-9), and David Pastrnak (2-4-6), to create a more even top-six. Pastrnak was moved to David Krejci's (2-3-5) right wing. It has worked out well so far, and will be sure to create mismatches for Columbus if both lines continue gelling.
The Bruins' defense looked very solid against the Maple Leafs. Torey Krug did a good job quarterbacking the powerplay. He had a goal and an assist on the man advantage and is big reason why Boston converted on 43.8 percent of their powerplay opportunities. Brandon Carlo also had a great series. After being injured during the Bruins' last two playoff runs, he stepped in this year and made an immediate impact. While yet to register a point he has played 21:35 per night and is a +2 in the postseason.
Boston Bruins vs Columbus Blue Jackets Series Preview: Summary
The Blue Jackets proved that they could hang with the best team in the NHL during the first round. Now they have to show that they can beat the third best team. While Columbus has the advantage in terms of rest, Boston will have no break in the momentum generated from a game seven win. If Rask and Bobrovsky continue to play well this series should be low scoring. Our Boston Bruins vs Columbus Blue Jackets series preview likes Boston's chances to move on. Although this matchup should be very close.
Boston Bruins vs Columbus Blue Jackets Series Preview: Prediction
Boston Bruins over the Columbus Blue Jackets in 7 games.