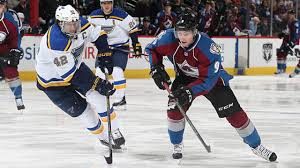 Our Blues vs Avalanche moneyline pick looks at the betting opportunity as the Cup Champions host a strong Colorado squad. This Blues vs Avalanche moneyline notes that the Colorado Avalanche enter Monday night as the only team yet to lose in regulation. They are 7-0-1 on the year and are first in the Central Division. The St Louis Blues have a 3-2-3 record and are coming off of a 5-2 loss to Montreal. Our Blues vs Avalanche pick expects to see a high scoring matchup when the two clubs meet on October 21, 2019 at 8 pm ET in St. Louis.
Blues vs Avalanche Moneyline Pick – Goaltending
Jordan Binnington is projected to make his seventh start of the season. He has been all right but not nearly as dominant as last year. Binnginton currently has a .909 save percentage and a 2.93 GAA. He stopped 29 of 32 shots in each of his last two starts. In both efforts, he came away with a single point after losing in either overtime or a shootout. While he should provide a solid effort, he faces a very potent Colorado offense.
Philipp Grubauer on the other hand has been pretty solid this season. He has yet to lose in regulation going 5-0-1 in six starts. The German goaltender has stopped .919 percent of the shots he has faced while allowing 2.79 goals per game. Grubauer has looked solid in all of his starts and should put up another good showing against the defending Stanley Cup Champions. He could certainly be a major difference make in tonight's contest.
Colorado's Top Line Continues Dominance
The Avalanche had one of the top lines in the NHL last season. In the 2018 – 2019 season, Mikko Rantanen, Nathan MacKinnon, and Gabriel Landeskog all finished with more than a point per game. They have had a strong start to this season as well. Rantanen and MacKinnon both have 11 points in the team's eight games. Landeskog has three goals and four assists. Along with their strong primary scoring, the Avs have gotten very decent contributions from their offseason acquisitions. Andre Burakovsky, Joonas Donskoi, and Nazem Kadri have all had good starts. Burakovsky has four goals and four assists while leading Colorado forwards with a +5 plus-minus rating. Donskoi and Kadri have six and five points respectively. The Avalanche could be in line to put up a good offensive performance against a Blues club which has allowed 3.50 goals against per game.
St Louis – Keeping Games Close
While the Blues currently sit in third place the Central Division, they have not been a dominant team to start the year. Of their eight games, they have only won one by more than a single goal. This win came against Ottawa who has arguably the weakest team in the NHL. St. Louis has gone four straight games without a win. Their biggest issue has been their inability to keep the puck out of their net. Over their last five games they have allowed 22 goals. This doesn't bode well against the NHL's highest scoring club.
The Blues have had some decent offensive performances from their top players recently. Brayden Schenn, Vladimir Tarasenko, and Ryan O'Reilly have all had good starts to the year. Schenn leads the team with eight points and five goals. Tarasenko and O'Reilly each have seven points. St. Louis will need big performances out of these players to try and hang with Colorado's high-powered offense.
Blues vs Avalanche Moneyline Pick: Summary
Our Blues vs Avalanche moneyline pick find that this matchup should be fairly high scoring. Colorado has the clear advantage in both the ability to score and prevent goals. If St. Louis is going to win this game, they will likely need to put up a large number of goals. The Avs' scorers have been hot and face a team that has struggled defensively. Look for a high scoring Avalanche victory on Monday night.
Blues vs Avalanche Moneyline Pick: Prediction
Colorado Avalanche moneyline +125