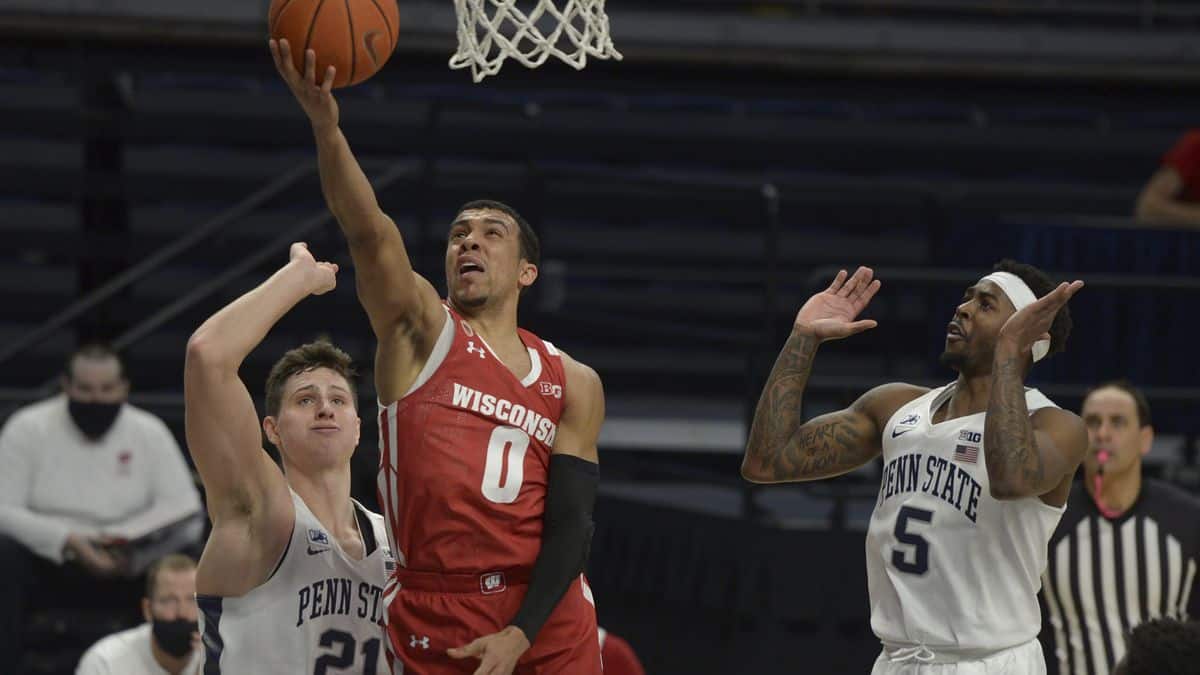 The Nittany Lions already have a game under their belt as they head into the March 11th Penn State vs Wisconsin meeting in the 2nd round of the Big Ten Tournament. PSU toppled Nebraska 72-66 in the first round, falling right on the number as -6 point favorites. Is that too close of a game to the worst team in the conference who was also missing their leading scorer?
Wisconsin once again proved that they're just a micro tier down from the Big Ten blue bloods of Michigan, Illinois, Iowa, and Ohio State this season. The Badgers come into the tournament having dropped three straight, and all to ranked teams. They had some chances before ultimately falling 73-77 at Iowa on Sunday, another narrow loss. Oddsmakers have the Badgers at -5.5 for Thursday night's tilt.
Penn State a Cohesive Unit
The Nittany Lions could actually do some damage in this tournament because they've got everybody playing their role right now. That was evident in the opener against Nebraska, Jamari Wheeler and Myreon Jones were the scorers (19 and 14), Izaiah Brockington found his spots (3-7, 8-8 FT) and John Harrar was the force inside (14 rebounds).
It should be noted that versatile performance also came against Nebraska, who boasts the worst defense in the Big Ten allowing 74.2 ppg. Penn State did finish the regular season with wins in three of their last four, but they were gifted some pretty easy opponents down the stretch including Nebraska, Minnesota, and Maryland. Over that span the Nittany Lions also got pounded 52-73 by Purdue.
The Nittany Lions were also down 15 points at one time in their opener to Nebraska, and those types of comebacks use up a lot of energy. Jones played a manageable 30 minutes, and Wheeler and Myles Dread were the only other two above 30 minutes. UW is going to get an energized team in the March 11th Penn State vs Wisconsin pick.
Are the Badgers Really in a Slump?
Sure maybe Wisconsin struggled to close out some of the games during their 1-5 finish to the regular season, but it could still be considered that they played well. Over the last three games UW has dropped a 69-74 game to Illinois, a potential #1 seed, fell 69-73 at #20 Purdue, and lost 73-77 at #5 Iowa on their Senior Day.
That's 10X a tougher gauntlet than Penn State has had to play lately, and PSU got dominated by Purdue. The Badgers have experience in Sr. guard Brad Davison, big game potential in D'Mitrik Trice (29 vs. Illinois), and size to counter Harrar in 6'10" Micah Potter and 6'11" Nate Reuvers.
While this may look like a nice matchup for the Badgers, the teams did split this season with both teams getting a win on their own floor. Penn State won 81-71 on January 30th as Harrar, Brockington, and Jones all had at least 18 points. and Wisconsin returned the favor 72-56 as -8.5 favorites.
Free March 11th Penn State vs Wisconsin Pick
One question for Thursday night is if Trice is going to be pressing too much? He had six total points in the two games vs. Penn State this season. Wisconsin still got the split, but you want more out of your big scorer. Penn State has the horses to stay in this one, and the upset alert should be on the ready.
Penn State 70 – Wisconsin 72
Free Pick: Penn State +5.5