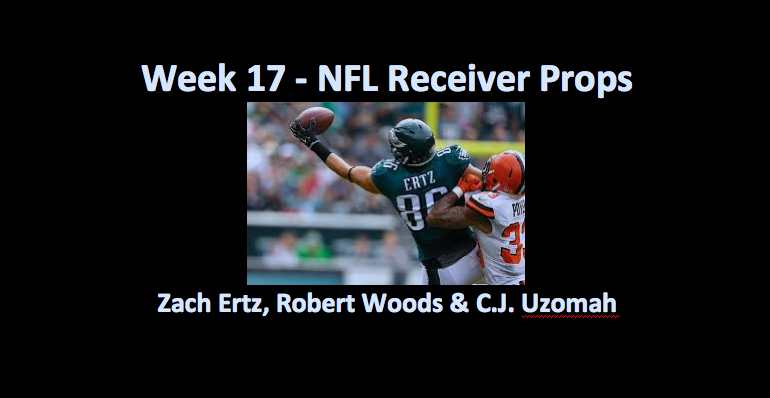 We're offering three Week 17 NFL prop articles with three bets in each. In this trio of bets, we offer our best NFL receiver props. Our choices for success this week are the Philadelphia Eagles Zach Ertz, Los Angeles Rams Robert Woods, and Cincinnati Bengals C.J. Uzomah. In addition to these wagers, we are also offering Patriots vs Jets props and three late-day NFL Week 17 props. As this NFL regular-season comes to an end, there are plenty of stats, as well as status and depth information, that we can use to determine what bets are the best to make. Here's what we have found are the best NFL receiver props for this week.
Zach Ertz Over 68.5 Receiving Yards
Bet: Ertz Over (-115)
QB Nick Foles and TE Zach Ertz have an overall good connection. Foles is a solid shot to medium range passer who certainly likes to go to his tight end. Ertz is a fine, sure-handed route runner. When he catches the ball, things happen.
It is true that when Foles replaced Wentz in the Rams game that the Philly quarterback was not connecting readily with Ertz. The tight end was targeted just seven times and caught only three passes for 22 yards. But when Foles started earlier this season, prior to Wentz taking over and starting in the third game, he hit Ertz 11 times for 94 yards.
Wentz has been out for two-straight games with a back problem. Foles starts today versus Washington. The Redskins have been on the skids and are very vunerable. There's a lot on the line, as, in order to secure a playoff wild card, the Eagles need a win, and Philly has to hope for Chicago to take down Minnesota. For Philadelphia to be victorious, an ongoing Foles/Ertz connection is essential today. Bet Ertz to have over 68.5 receiving yards.
Robert Woods Over 75.5 Receiving Yards
Bet: Woods Over (-108)
Of our three best NFL receiver props, we think that this one is the real no-brainer. LA Rams QB Jared Goff has designated Robert Woods as his go-to pass catcher. After Cooper Kupp's season was cut short by an ACL injury, Woods became the team's prime receiver. Woods has had 12 games of 70 or more yards. He's topped 75.5 seven times this season. Last week, against Arizona, he was targeted seven times and had six catches for 89 yards.
Plus, Woods is going up against one of the least-effective secondaries in the NFL. The 49ers are ranked 28th versus the pass. The one thing San Francisco can do is stop the run. They are ninth in the NFL against the ground game. Finally, the Rams have an offense that can certainly score, and Goff's arm is their primary method. Only two teams have scored more points than the Rams this season, the New Orleans Saints and the Kansas City Chiefs. We love this Woods at over 75.5 receiving yards prop.
C.J. Uzomah Over 38.5 Receiving Yards
Bet: Uzomah Over (-115)
The over is fairly low, and tight end C.J. Uzomah has, as of late, been a popular target. Jeff Driskel, who will start for Andy Dalton, who's been placed on injured-reserve, will be looking for some sure targets on short routes. In the last game, which was against Cleveland, Uzomah was targeted five times. He made four catches for 49 yards.
Cleveland plays the Pittsburgh Steelers today, a team that has a tough time defending the tight end position. In the first game these two teams played against one another this season, Uzomah took in six passes for 54 yards. The Cincy pass catching unit has suffered numerous injuries, which has helped to make Uzomah one of their prime targets. We think he'll have more than 40 yards in receptions today.
Final Word: Our Best NFL Receiver Props
If we're ranking our best NFL receiver props, as we noted earlier, we'd say Woods is your best bet. We also love Uzomah due to three factors, Pittsburgh's poor TE defense, lack of outlets for Driskel, Uzomah's past and recent performance. Ertz seems like a solid choice in what should be a Philly win.