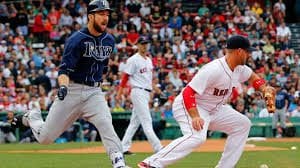 Our best MLB betting pick for the day before the 2016 All-Star game involves the Tampa Bay Rays and Boston Red Sox. This season the Red Sox are a very exciting club to watch. Overall, their pitching is decent, while the Sox hitting is their primary strength. Boston is just a few games out of first place in the AL East. The Tampa Bay Rays sit 15 games out of first. They have fairly solid pitching. However, their hitting and run production is weak.
Recent Performance
The Red Sox are 6-4 in their last 10 games. They have won two straight. The Rays have lost two in a row and are 2-8 for their last 10. Over the past few weeks, Tampa Bay has been in a pattern of winning a game and then losing three to five straight. Boston has been winning a bit more than losing, but they are quite capable of losing three straight and then doing the same in the win category.
The Game
Boston Red Sox pitcher David Price (4.64 ERA, 8-6) has been struggling. He's lost his last two. His most recent start resulted in a 7-2 loss to Texas, while, after that, he lost to Tampa Bay 4-0. He's managed to come back after a few losses, and Price would certainly like to redeem himself after his last showing against the Rays. It's a game that he lost in the first three innings.
Jake Odorizzi (4.33 ERA, 3-4) has started 18 games, but he has a tough time getting past five innings. Although he got off to a decent start this season, he's had a rough four weeks, going 0-4. Red Sox hitters have a perfect opportunity to make some hay against him in the early going.
Keys to the Game
For this best MLB pick to work out in the way we think it will, the Boston Red Sox will need to get to Odorizzi quickly. The Sox have some excellent hitters. Look for David Ortiz to get his bat on some balls, as well as Xander Bogaerts, Dustin Pedroia, and Mookie Betts.
At the same time, Boston's Price will be looking to strikeout as many hitters as possible That's Price's strength as is his control. His biggest issue is giving up the long ball. That means shutting down Evan Longoria and Brad Miller. They are the Rays' two biggest homerun threats.
Best MLB Betting Pick
Our best MLB Betting pick has the Boston Red Sox taking down the Tampa Bay Rays by three runs. We like Boston with the runline in this game. We're expecting the Red Sox to do everything that they can to go into the All-Star break as close on Baltimore's heels as possible. On the other hand, expect the Rays to be looking forward to getting some rest, and, quite possibly, playing a lax game on Sunday.
MLB Pick: The Boston Red Sox at -1.5.