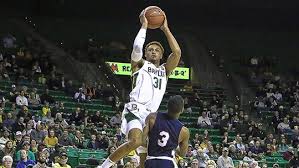 Our Baylor vs Texas Tech pick offers the Red Raiders at -3.0. This Baylor vs Texas Tech projection comes at a time when the Big 12 is jammed at the top with five teams that have 1-0 records. The #4 Baylor Bears (11-1 Overall, 1-0 Big 12) have the best overall record in the Big 12. At the same time, the #22 Texas Tech Red Raiders (10-3 Overall, 1-0 Big 12) come to this game having performed soundly thus far. This Big 12 men's basketball game will be played on Tuesday, January 7, 2020 at 9:00 pm ET. This contest will take place at the United Supermarkets Arena in Lubbock, Texas.
Baylor vs Texas Tech Pick – Recent Performance
In the first week of the season, Baylor suffered their one and only loss. That one loss occurred when Washington beat the Bears 67-64. Baylor, which is on a 10-game winning streak, has beaten three top 25 teams. On November 25, Baylor took down #17 Villanova 87-78. Then, after beating Maryland-Eastern Shore 78-46, Baylor played two nationally-ranked teams one after the other. On December 7, BU met and beat #12 Arizona 63-58, and then on December 10, they edged #18 Butler 53-52. In their first conference game, which was on December 30 against Texas, Baylor easily beat the Longhorns 59-44.
Texas Tech started their season with five wins in a row. Then they lost three straight with two of those losses being in overtime. On December 10, the Red Raiders met and beat the #1 Louisville Cardinals 70-57. That big victory was followed by four more wins. In their initial Big 12 contest, TTU easily beat Oklahoma State 85-50. Thus far, their biggest test has been against Louisville, and the Raiders certainly passed that test easily.
Bears at Red Raiders – Stats
The Bears are averaging 75.7 PPG, while the Red Riders are at 76.8 PPG. Our Baylor vs Texas Tech pick notes that that there is a slight difference between these two teams on defense. Baylor is allowing 58.9 PPG. TTU is giving up 62.2 PPG. Rebounds come in at 38 each per contest. The Raiders are averaging 17.3 APG while the Bears are at 14.7 APG. The Bears are a bit better on blocks (5.3 – 3.5) and steals (8.8 – 7.5).
In terms of shooting, Baylor is connecting on 43.4% of their field goals. They're completing 36.0% of their shots from downtown and 71% from the free throw line. On the other side of the ledger, Texas Tech is hitting 45.6% of their field goals. Along with being a bit better from the field, the Red Raiders are a good five-percent (76.2%) better from the charity stripe. However, the Bears are better from the arc, as the Red Raiders are hitting 33.7% of their threes.
BU vs TTU – Players
The Bears are loaded with guards who can shoot. Guards Jared Butler and Macio Teague are averaging 17.3 and 15.2 points per game respectively. Butler is good on 42.2% of his threes while Teague is grabbing 4.8 RPG. Also at guard, Davion Mitchell, who's completing 43% of his attempts, is putting up 9.3 PPG and taking down 3.3 RPG. In front, Freddie Gillespie, who's completing 54.9% of his field goals, is averaging 8.7 PPG and 9.4 RPG. Gillespie is posting 2.3 BPG.
TTU brings five double-digit scorers to tonight's game, including four guards. Guard Jahmi'us Ramsey, a 50% shooter, tops the team with 17.4 PPG. He's also connecting on 47.9% of his three-pointers while bringing down 5.3 RPG. Guards Davide Moretti and Terrence Shannon Jr. are averaging 13.2 and 12.2 PPG each. In front, T.J. Holyfield is good. For 5.1RPG and 10.1 PPG. He's a 58.8% shooter.
Our Baylor vs Texas Pick
Our Baylor vs Texas Tech pick sees this as being a close contest. Texas Tech is hosting and home court should help the Raiders. TTU brings a very solid and deep group of players. However, the Baylor Bears possess two top-notch scorers. All in all, we prefer Texas Tech's depth. We're going with the Red Raiders at -3.0. We have a great prediction for the 7:00 pm ET contest between #18 Virginia vs Boston College. In addition, we've got our January 8 pick for Pittsburgh and North Carolina right here.
#4 Baylor Bears vs #22 Texas Tech Red Raiders Prediction – Summary
Texas Tech Red Raiders at -3.0