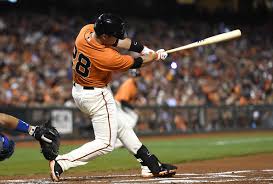 The Atlanta Braves (47-82) play the San Francisco Giants (70-58) on Saturday, August 27th at 9:05 p.m. Today's Atlanta/San Francisco free MLB Pick looks at a team that never got it together this season, the Braves, and a club that is focused on going deep into the postseason, the Giants. This game may look to be an easy call, but it's not. There are various factors that should make one pause before going with the favorite.
Pitching Situation Atlanta
Our Atlanta/San Francisco free MLB pick considers the problematic pitching situation for both teams. Atlanta puts Mike Foltynewicz (6-5, 4.55 ERA) on the mound, while the Giants start Jake Peavy (5-9, 5.55 ERA). Throughout the season, Foltynewicz has been inconsistent. The month of August started well, as he won two of three games, beating the St. Louis Cardinals and Washington Nationals. In his last two starts, neither of which resulted in a decision, he was still sound although in no way commanding.
His last start, which was against the Arizona Diamondbacks, was rough as he allowed four runs in six innings. He left the game with a 7-4 lead, but the Brave bullpen could not hold Arizona. The final score was 9-8. In this game the Atlanta bullpen will be a major factor.
Pitching for the Giants
Also a major factor will be Peavy, who has for the month of August come in from the bullpen in middle relief. As a starter this season, he has had a rough go of it. He's notched very few wins, and has pitched in numerous games where he's been tagged for homeruns. Thus far this season, he's allowed 18 of them, including two over two innings when he last appeared against the Mets in relief. His last start was against the Nationals on July 30. In that game, he gave up three runs on five hits, including one homer, over four innings. He got no decision.
The Giant closer situation is tenuous. Santiago Casilla (28 SV, 3.12 ERA) has had eight blown saves, including one on August 14 against Baltimore. However, in his nine appearances this month, the Giants are 8-1, and he has four saves and four no decisions. It was early in in mid-season that Casilla had some truly rocky times. The question is if he is needed tonight can he continue to be consistent?
Team Trends and Observations
Peavy did well against the Braves when he started against them on May 31. In that game, he allowed just one hit over seven innings. Also in his favor is the fact that over the past 11 games the Giants have not an error. Solid fielding can go a long way today.
For the Braves, we're looking at the fact that they are a better road team than home club. While away from Atlanta they are 28-38, while they are when hosting 19-44. At the same time, the Giants have not had an easy time with Atlanta. Before last night, they 2016 series was even at 2-2. On May 30, tonight's starter, Foltynewicz, won 5-3, allowing three hits and one run over six innings. He gave up one homer, walked two, and struck out four.
Atlanta/San Francisco Free MLB Pick
Our Atlanta/San Francisco free MLB pick has to take into consideration San Francisco's barrage of hits and collection of runs they enjoyed in beating the Braves 7-0 last night. Neither club is an offensive powerhouse, but, still, the Giants are much better at generating runs than the Braves.
Still, we're taking Atlanta in this game. The runline is the safe way to go, but we are living on the edge. Bet the Braves with the moneyline at +145.
Atlanta/San Francisco Free MLB Pick: Braves with moneyline at +145