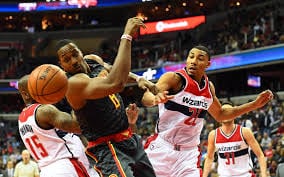 The Sunday segment of the initial round of the NBA playoffs starts at 1 p.m. as the Atlanta Hawks (43-39) and the Washington Wizards meet (49-33). The Hawks finished fifth in the East, while the Wizards are the fourth-seed. In the regular season series, the Wizards dominated 3-1, but two of those wins were early in the season. Our Atlanta plays Washington 2017 NBA playoffs free pick sees this as being a potentially tight series. Here is how we see this series unfolding.
Atlanta Hawks Keys
The Hawks are scoring on average 103.2 PPG while they are allowing 104 for a -0.8 differential. Washington is 18th in shooting at 45.1%. 23rd in threes at 34.1% and 28th in frees at 72.8%. The Hawks are a good rebounding team, averaging 44.3 RPG, and also sound on ball movement, averaging 23.1 ASP. They're also sound on blocked shots and drawing fouls.
Of the six Atlanta players who are averaging double-digits in scoring, two are feeling some injury pain, PG Dennis Schroder (17.9 PPG, 6.3 APG, 45 FG%) and SF Kent Bazemore (11.0 PPG, 3.2 RPG, 41 FG%). Both are expected to play on Sunday. Key players under the boards for the Hawks are PF Paul Millsap (18.1 PPG, 7.7 RPG, 1.30 SPG) and center Dwight Howard (13.5 PPG, 12.7 RPG, 1.24 BPG). Millsap is a 44% field goal shooter while Howard is connecting on 63% of his shots. SG Tim Hardaway Jr. is averaging 14.5 PPG while completing 46% of his field goals and 36% of his threes.
Washington Wizards
The Wizards can shoot and score. They're averaging 109.2 PPG and hitting 47.5% of their field goals, which is third in the NBA. Plus, the team's 37.2% success rate from downtown puts them eighth in the league and their 78.4 success rate at the charity stripe places them 12th in that category. The Wizards offer solid ball movement with 23.9 APG but they are 22nd in rebounding at 42.9 RPG. In terms of D, the team is allowing 107.4 PPG, giving them a +1.8 differential. Although not a big shot blocking team, they are second in the NBA in steals with 8.2 per game. They give too many fouls, which can hurt them in close games.
Of all of the Hawks players that might be dealing with an injury issue John Wall (Quad) is the one guy the Wizards need to be healthy. He is day-to-day having sat out the final game of the regular season. Wall is tied for the team lead in points per game, averaging 23.1, and in assists, notching 10.7 per game. He's a workhorse too and has great hands, making 2.1 SPG. SG Brady Beal is the other player on the Wizards averaging 23.1 PPG. In the pant, power forward Markieff Morris and small forward Otto Porter Jr. are averaging 6.5 and 6.4 RPG respectively while scoring 14.0 and 13.4 PPG. Center Marcin Gortat is bringing down a team best 10.4 RPG while averaging 10.8 PPG.
Top Series factors
Here's what is happening with this series:
Wizards are salty after being eliminated by Hawks in semi-finals in 2016
Neither team has played well in the second half
Hawks are solid on the boards in rebounding and blocks
Wizards are adroit at stealing
Offensive edge goes to Washington
Defensive edge is held by Hawks
Atlanta looks to be healthier
Atlanta Plays Washington 2017 NBA Playoff Free Pick
Will the Wizards let the Hawks take them out of the playoffs again? It certainly can happen. This will be a hard-fought series that's punctuated by grudges held from last year's playoffs. Our Atlanta plays Washington 2017 NBA playoff free pick sees this going seven. The better defense wins and that means we're taking Atlanta. Game time is slated for 1:00 p.m.
Atlanta Plays Washington 2017 NBA Playoff Free Pick: Hawks in seven