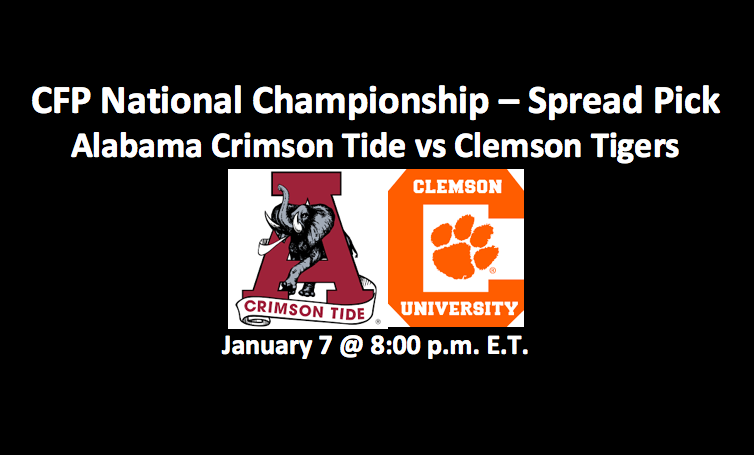 Here we go again as the two perfect teams in the nation, the Alabama Crimson Tide (14-0) play the Clemson Tigers (14-0) in the 2019 National Championship game at 8:00 pm ET on Monday, Jan. 7. These two teams are about as closely matched as they can be. Both feature dynamite offenses and tough, stingy defenses. Our Alabama vs Clemson pick has the Tide at anywhere from -4.5 to -6.0. This is a game where Alabama is favored, but, at this point, not by as much as one might expect. There are reasons for that, including recent history. Here's our analysis of the latest matchup between the Clemson Tigers and the Alabama Crimson Tide.
Clemson and Alabama History
The Tigers and Crimson Tide first played one another on Nov. 29, 1900 with Clemson vanquishing Alabama 35-0. Since then, these two football teams have met 17 more times with the Crimson Tide dominating those games and posting a record of 14-4-0. From 1909 through 2016 (the first time these two teams met in the NCAA championship game), Alabama won every game. That was a string of 13 straight wins.
Since the creation of the College Football Playoff (CFP) series and the College Football Playoff National Championship game, these two teams have met a total of three times, twice in the final contest and once in a semifinal game. They first met for the CFP National Championship on Jan. 11, 2016. Alabama beat Clemson in a barnburner 45-40. The next year, the two teams met on Jan. 9, 2017 for the championship. This time the Tigers upset the favored Crimson Tide 35-31. Last year, on Jan. 1, 2018, it was Clemson and Alabama in the Sugar Bowl CFP Semifinal. Alabama easily beat the Tigers 24-6.
Team Stats
In weighing the stats for our Alabama vs Clemson pick, it's clear that there's very little wiggle room between these two football teams. Alabama holds a slight edge in points per game, 47.7-to-44.3. However, Clemson has the advantage on defensive points allowed, 13.7-to-14.8.
Total offensive yards for these teams are almost identical. The Tigers produced 530.4 YPG, while the Tide was good for 527.6 YPG. Alabama generates more passing yards, 325.6-to-274.1. Clemson is good for 256.3 rushing yards per game, while the Crimson Tide is running for 202.0 YPG. Yards allowed are 276.7 per game by Clemson and 295.4 per game by 'Bama. The Tigers are especially tough against the run, allowing 92.9 per game. They're also giving up 183.8 YPG in passing. The Crimson Tide has held opponents to 178.4 passing yards and 117.0 rushing yards per game.
Is there an edge to be found here? It may be for the Tigers, a rushing team, that's going up against a club that allows a few extra yards on the run. For the Tide, it's the fact that they are a passing team, and that's where the Tigers are not quite as strong. Yet, neither defense is weak. What these stats do indicate is that whoever controls the tempo of the game will have an edge. Clemson benefits from a slower tempo and Alabama from a more up-tempo game.
Offensive Strengths
For the Tigers, freshman QB Trevor Lawrence (65 COMP%, 24 TDs, 4 INTs) has had a solid season, passing for over 2,600 yards and connecting with a trio of receivers. The top pass catcher for Clemson is sophomore Tee Higgins. Higgins has 52 catches and averaged 15.4 YPC while scoring 10 times. The rush attack is anchored by sophomore Travis Etienne. Etienne averaged 8.3 YPA. He rushed for 1,463 yards and scored 21 times.
Sophomore QB Tua Tagovailoa runs what is a very productive air attack. He's thrown for over 3,300 yards and hit for 37 TD passes while tossing just four picks. Tagovailoa completed 67.7% of his passes. Five different receivers have caught a total of 41 TD passes, with nine of those coming from backup QBs Jalen Hurts and Mac Jones. Sophomore WR Jerry Jeudy led the team in catches (59), yards (1,103), and TD catches (12). Other productive pass catchers include freshman WR Jaylen Waddle (41 REC/7 TDs), sophomore WR Harry Ruggs III (42 REC/10 TDs), and junior TE Irv Smith Jr. (38 REC/7 TDs). The Alabama rush attack includes three backs with a minimum of 90 rushes each, more than 1,800 yards total, and a total of 22 TDs. RB Josh Jacobs leads the team in touchdowns with 11, while Damien Harris tops the team in yards with 771.
The Crimson Tide has an advantage in terms of offensive depth, in both the receiving and rushing corps. For Clemson, Etienne offers extraordinary potential when it comes to individual output and freshman QB Lawrence is a solid passer.
Defense
For the Tigers, three players in the front offer great defensive chops. DE Clelin Ferrell (11.5 SCKs, 18.5 TFL), DT Christian Wilkins (5.0 SCKs, 13.0 TFL), and DE Austin Bryant (8.5 SCKs, 14.0 TFL) are tough on QBs and RBs. The secondary looks vulnerable, as the Tigers don't have the same quality players in back as they do upfront.
For Alabama, there are two standouts in front, defensive linemen Quinnen Williams (8.0 SCKS, 18.0 TFL) and Isaiah Buggs (9.5 SCKs, 13.5 TFL). LB Christian Miller is also a potent force with eight sacks and 11 TFL. DB Savion Smith leads the team with three picks. He also has five passes defended. LB Dylan Moses, who has 3.5 sacks and 10 TFL, leads the club with 82 tackles.
Our Alabama vs Clemson pick sees the Tide as being especially tough on the passing game. At the same time, the Tigers do a fine job of pressuring QBs and stopping RBs.
Our Alabama vs Clemson Pick
Our Alabama vs Clemson pick is the Crimson Tide at -4.5 It is true that these two teams are well matched, but we feel that Alabama has enough of an advantage to win this game by about seven points. In addition to this spread pick, we also have an over/under on the 2019 CFP National Championship game.
Summary Alabama vs Clemson Pick: Crimson Tide at -4.5