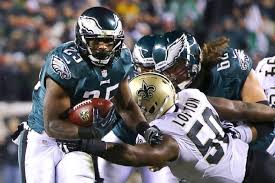 The last place NFC West Division San Francisco 49ers (0-7) play the NFC East-leading Philadelphia Eagles today at 1 p.m. E.T. We do think that at the end of the day the 49ers will still be searching for their first win of the 2017 NFL season and the Eagles will have yet another victory in their pocket. Two weeks ago, SF lost to the Washington Redskins 26-24 and last week Dallas beat them 40-10. Recent results for Philly include a 28-23 win two weeks ago versus the Carolina Panthers and a 34-24 victory last week against the Redskins. Our 49ers play Eagles 2017 NFL pick has Philadelphia at -10.5 and the over/under at 43.5.
San Francisco Pluses and Minuses
The 49ers will most likely start rookie QB C.J. Beathard. He's played in the last two games. He's tossed one TD and one INT and is completing 55.4% of his passes. SF will look to fifth-year RB Carlos Hyde for yardage. He's had 100 carries and is averaging 4.3 YPA while scoring four times. Hyde also has 27 receptions. On D, the Niners have 11 FF and four recoveries. Their sack total stands at 14 while they have allowed 23. The team has posted a healthy 31 TFL and 25 PD.
49ers Summary
Scoring under 18 PPG allowing over 26
D cannot stop rush
Offer a decent pass attack
Philadelphia Pluses and Minuses
QB Carson Wentz has 17 TD passes and four picks. He's completing 61.6% of his passes. Although he's been sacked 19 times, he's also done well this season at turning many broken plays into gains by running for it. Wentz has a great group of receivers led by Zach Ertz and Nelson Agholor. Each has five TD receptions. RB LeGarrette Blount, averaging 5.0 YPA, does a good job of keeping opponents off-balance. On defense, Philly has just six FF, but they have recovered five. They've generated 27 TFL and 38 PD while making seven picks. They've posted 18 sacks. The bad news is in their last game All-Pro left tackle Jason Peters (MCL and ACL) and linebacker Jordan Hicks (ruptured Achilles tendon) were lost for the rest of the 2017 season.
Eagles Summary
Eagles can score in many ways
D tough versus run but not pass
Wentz may be best in NFL right now
Three Takeaways
Here are the three major takeaways in our 49ers play Eagles 2017 NFL pick:
Wentz is playing amazing football
S.F. is weak on both sides of the ball
Philly can stop SF
49ers and Eagles Free Pick
The 49ers PF/PA differential is at -63 while the Eagles point differential sits at +53. Despite the loss of two key defensive starters, we think that Philly is deep enough on both sides of the ball to win this game easily. In our 49ers play Eagles 2017 NFL pick, we're going with the Eagles at -10.5. As noted earlier, he over/under is now at 43.5. It started at 47.5. We like the over in this. We can see Philly putting about 40 to 42 on the board and the Niners scoring about seven.
San Francisco at Philadelphia 2017 NFL Free Picks: The Eagles at -10.5 and over 43.5