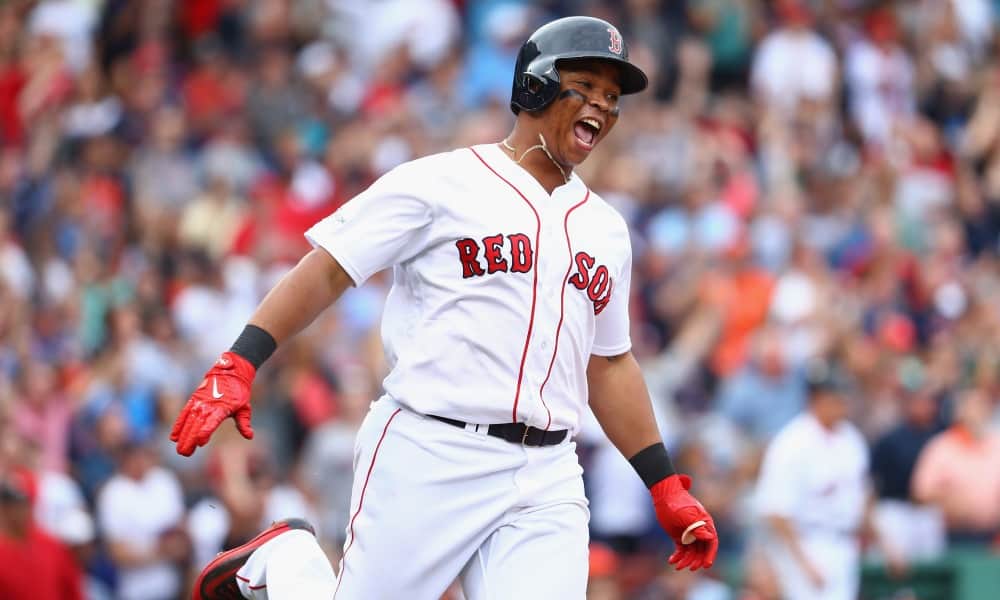 It's another year and another trip to the championship for Houston heading into the 2021 ALCS Red Sox at Astros game 1 matchup. Houston has only raised one trophy over that span, but the experience of getting to this spot time and time again has to be an advantage.
Boston is back in the postseason after a two year drought and they've looked good in beating the Yankees in the wild card game and then dispensed top AL seed Tampa Bay in four games. The Red Sox have had the last three nights off, and they hope that extra rest doesn't run the mojo. Houston is a -145 favorite for the opener.
Boston Bats Having a Hot Postseason
The Red Sox are averaging 6.4 runs/game this postseason and have belted out 11 HRs so far. Xander Bogaerts, Rafael Devers, Enrique Hernandez, and Kyle Schwarber all have multiple homers and what the extra rest also does is give J.D. Martinez a few more deals to heal his sprained ankle. Martinez is 7 for 14 these playoffs even after spraining his ankle on the last day of the regular season.
Boston went 2-5 vs. the Astros this season, and lost three of four in their only trip to Minute Maid Park. The Red Sox bats were quiet in Houston as they managed just 9 runs over the four game series but that was way back in late May/early June. Friday's starter Framber Valdez pitched in one of those games that series, giving up 1 ER over 7.0 IP while striking out 10.
One of the surprises for the ALCS Red Sox at Astros game 1 matchup is that Alex Cora opted to go with Chris Sale (5-1, 3.16 ERA) as the starter on Friday night. It is Sale's turn up in the rotation, but Nathan Eovaldi is also on full rest and Sale was tagged for 5 ER in game two vs. Tampa Bay even though Boston ended up winning 14-6.
Astros Solid at Home
Houston got through the White Sox pretty easily in the ALDS, winning in four games. The Astros were especially dominant at Minute Maid Park where they picked up 6-1 and 9-4 wins vs. Chicago although the 10-1 victory in game 5 was pretty solid as well.
Obviously the Astros bats are just as warm as Boston's, with Houston averaging 7.75 runs/game in the ALDS. The Red Sox are scoring their runs with the long ball, but the Astros have only belted out 4 HRs this postseason. OBP is the name of the game for Houston, with Yordan Alvarez (.529) and Carlos Correa (.529) two of five players getting on base at a .444 clip or better.
Valdez (11-6, 3.14 ERA) makes his second start of the postseason after giving up 4ER over 4.1 IP in what ended up being a 9-4 win over the White Sox. Valdez also gave up 4 ER in his last start of the regular season so maybe he's struggling down the stretch.
ALCS Red Sox at Astros Game 1 Pick
Tough to go against the Astros at home in this one, but Sale has the chance to dominate in this one. At the same time Valdez had some struggles over his last two starts.
Boston 5 – Houston 3 
Free Pick: Boston +125