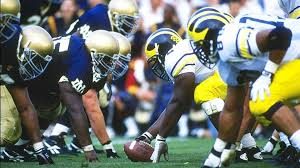 With the NFL season on the horizon, MLB playoffs around the corner, and basketball about to come into focus, the college football season, which opened last weekend with a few games, gets into full swing starting tonight and going through into Labor Day. We'll be offering a lot of NCAAF picks throughout this weekend and, hopefully, continuing on from our first pick of this young season where we nailed the spread and over/under. That was the Wyoming at New Mexico State contest. Here are some quick 2018 Week One college football previews: for the avid sports bettor.
Thursday, Aug 30
There are a dozen games on Thursday, with one top 25 team on the schedule. That team is the UCF Knights (#21). Here's our 2018 Week One college football previews of some of the select games.
#21 UCF at UConn 7:00 PM– Knights ruin Huskies' opener
New Mexico State at Minnesota 7:00 PM- Aggies lose second of season
Central Connecticut at Ball State 7:00 PM- Ball State beats this FBC club
Kennesaw State at Georgia State 7:00 PM- Take the home team all the way
Southeastern Louisiana at UL Monroe 8:00 PM- Home wins it
Northwestern at Purdue 8:00 PM – Big Ten West contest take NW
Wake Forest at Tulane 8:00 PM- ACC vs AAC, take ACC Demon Deacons
Savannah State at UAB 8:00 PM- UAB Blazers wins opener
Missouri State at Oklahoma State 8:00 PM- Big 12 Cowboys win
Weber State at Utah 8:00 PM – Home team takes it
Northwestern State at Texas A&M 8:30 PM- T A&M Aggies are victorious
UC Davis at San Jose State 10 PM- SJS Aztecs takes down visitors
Friday, Aug 31
Eight games are available on Friday. From the top 25, you've got three teams, #11 Michigan State, #4 Wisconsin, and #13 Stanford, starting their seasons.
Each one is playing an unranked team. Here's a quick look at some of those games.
Utah State at #11 Michigan 7:00 PM– Wolverines win
Army at Duke 7:00 PM— Bet Black Knights
Western Kentucky at #4 Wisconsin 9:00 PM— Badgers win
San Diego State at #13 Stanford 9:00 PM— Cardinal team takes it
Saturday, Sep 1
This is the motherlode of games. There are 64 contests, which include 17 from the top 25. There's one game that includes two teams from that list. That's #11 Michigan State at #12 Notre Dame. #1 Alabama plays Louisville, while #2 Clemson opens their season against Furman. Both of these ranked teams are at home. See our pick pages for our 2018 Week One college football previews and picks.
Sunday, Sep 2 and Monday, Sep 3
There is one game scheduled for Sunday. That contest features #25 LSU and #8 Miami (FL). On Labor Day, there is one more game. That game offers #20 Virginia Tech at #19 Florida State. Those two games make Sunday and Monday huge in college football. We'll be doing picks extended picks on both games.
2018 Week One College Football Previews: Final Word
Be sure to check daily the rest of this week throughout the weekend for our extended and detailed 2018 Week One college football previews: the best around. We'll be offering picks on select games throughout the long holiday weekend.