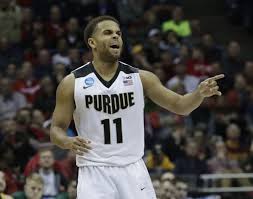 Today, Saturday, round two of March Madness offers one game from the Midwest Region and one from the South. That means that there will be three second round games on Sunday from each of those regions. We've got today's 2017 March Madness Second Round free picks for the South and Midwest Regions right here.
In the South Region, #12 Middle Tennessee is at #4 Butler. That game starts at 7:10 p.m. ET. The Midwest Region of the tournament offers #5 Iowa State at #4 Purdue. That's the final game for Saturday and it starts at 9:40 p.m. ET.
#12 Middle Tennessee at #4 Butler
7:10 PM TBS
BMO Harris Bradley Center, Milwaukee, Wisconsin
When #12 Middle Tennessee beat the Big 10's Minnesota, which was a fifth-seed, on Thursday they made it look kind of easy. The Blue Raiders led the Golden Gophers 37-31 at the half and they outscored them 44-41 in the second-half for an 81-72 victory. Middle Tennessee got a big game out of Reggie Upshaw as he scored 19 points. Giddy Potts hit for 15 and the Blue Raiders were all set for round two. The fourth-seed Butler Bulldogs played the 13th-seed Winthrop Eagles, soundly defeating them 76-64. For Butler Avery Woodson put 18 points on the scoreboard and tied a career high mark by knocking down six 3-pointers.
Middle Tennessee
The Blue Raiders are averaging 75 PPG. JaCorey Williams leads the team in points per game with 17.2 and rebounds with 7.3. Close behind is Giddy Potts with 15.8 PPG and 5.4 RPG. Reggie Upshaw also has quality stats, averaging 14.6 PPG and 6.9 RPG. For the Blue Raider to have a chance, these three players will really need to produce.
Butler
Butler is scoring 76 PPG. Keelan Martin and Andrew Chrabascz are major lynchpins in this team's offense. Martin is averaging 15.9 PPG and 5.8 RPG. Chrabascz is second with 11.0 PPG and 4.6 APG. Kamar Baldwin, Avery Woodson, and Kethan Savage are each averaging between eight and 10 points per game. Tyler Widerman offers sound point production and rebounding.
We're taking the over at 141.0 and we like Butler at -2.5. We expect a close game.
2017 March Madness Second Round Free Pick: Butler at -2.5 and over 141.0
#5 Iowa State at #4 Purdue
9:40 PM TBS
BMO Harris Bradley Center, Milwaukee, Wisconsin
Fifth-seed Iowa State able to defeat 12th-seed Nevada in round one. Monte Morris had a big game as he notched19 points, took down eight rebounds and dished off eight assists. The final in that one was 84-73. For fourth-seed Purdue, 13th-seed Vermont proved to be a fairly tough opponent. The Catamounts were behind by just one point at the end of the half, 37-36. In the end, the Boilermakers were able to pull away, beating Vermont 80-70.
Iowa State
Iowa State is averaging 81 PPG. Although Purdue has a deeper squad, the Cyclones will put four fine players on the floor to challenge the Boilermakers. There are three major scorers on this team, Monte Morris, Nazareth Mitrou-Long, and Deonte Burton who are averaging 16.4, 15.4 and 14.8 points per game respectively. All three bring sound rebounding skills to the court.
Purdue
The Boilermakers have an impressive group of scorers. Purdue is averaging 80 PPG and their roster had five players who average double-digits in scoring. At the top of their scoring list is double-double forward Caleb Swanigan. Swanigan is averaging 18.4 PPG and 12.6 RPG. Center Isaac Haas and forward Vince Edwards are each averaging 12.5 PPG. Haas connects on 58% of his shots. In the backcourt, guards Carsen Edwards and Dakota Mathias each offer 10 point per game.
Purdue is shooting 76% from the foul line while Iowa State is hitting just 70%. The Boilermakers also take about 15% more frees. This game is even right now. We like Purdue even. Also, take the over at 154.0.
2017 March Madness Second Round Free Pick: Purdue even and over 154.0
2017 March Madness Second Round Free Picks: Final Note
That's it for our 2017 March Madness Second Round free picks for Saturday's South and Midwest Region games. Remember that we are offering free March Madness picks for point spread and totals bets for every single game. Sunday we will pick eight more games. Make sure you visit our pages.