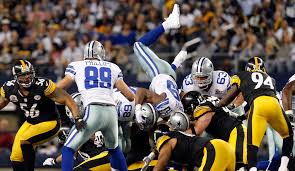 For our late afternoon 2016 NFL Week 10 Free Pick Dallas Plays Pittsburgh. The Dallas Cowboys (7-1) are excelling in a manner no one had expected. After losing their first game of the season to the Giants (20-19), Dallas has won seven straight and comes to this game with a 7-1 mark. They lead the NFC East.
The Pittsburgh Steelers (4-4) got off to a good start, as they went four and one for their first five. But suddenly what had been an offensive juggernaut was tamed. Not only have the Steelers lost their last three, but, also, they have scored an average of just 15 PPG in doing so. In their four wins, they averaged around 36 PPG.
The Cowboys easily beat Cleveland last week by a score of 35-10. In the Sunday night game the week before, they took down the Eagles in OT, 29-23. Other wins for Dallas in October include Green Bay, Cincinnati, and San Francisco. The Steelers started October off with two straight wins, beating the Chiefs 43-14 and Jets 31-13. But then came the three losses, 30-15 at Miami, 27-16 to New England, and 21-14 at Baltimore. That loss to the Ravens helped to put Baltimore in first place in the AFC North.
Cowboys Offense vs. Steelers D
The Dallas offense has been running smoothly despite the fact that QB Tony Romo went down early in the season. Romo looks like he's close to being back, but all the time he's been out rookie QB Dak Prescott (66.5 COMP%, 12 TDs, 2 INTs, 11 Sacks) has been top-notch. He's made very few rookie mistakes. WR Cole Beasley (43 REC, 499 YDs, 11.6 AVG, 3 TDs) and TE Jason Witten (38 REC, 424 YDs, 11.2 AVG, 2 TDs) have been solid pass catchers.
Dallas has also seen rookie RB Ezekiel Elliot (177 ATT, 891 YDs, 5.0 AVG, 7 TDs) explode onto the scene. Elliot is an amazing force and talent on the field. Plus, Prescott has proven to be a solid ground gainer; he's run for four scores. Dallas is averaging 27.9 PPG.
Steeler Defense Notes
The Steelers are holding teams to 21.4 PPG. They've defended 37 passes, forced 10 fumbles, recovering five, and notched 28 TFL. In addition, they have made 11 sacks and four interceptions. Corners Ross Cockrell (23 TCKL, 7 PD, 0 INT) and Artie Burns (23 TCKL, 6 PD, 1 INT) have both played well. Also LB James Harrison (2 Sacks, 3 TFL, 1 PD, 1 INT, 2 FF) has proven that he can still create mayhem. Teams have had a tough time getting to Prescott, and the Steelers don't offer much of a pass rush. If the Steelers can't pressure Prescott, they'll have a difficult time keeping them out of the end zone. In this 2016 NFL Week 10 Free Pick Dallas Plays Pittsburgh, that could tip the game for Dallas.
Pittsburgh Offense vs. Cowboys D
A big question concerning today's game is the Dallas offense. Can they get back on track? This is Roethlisberger's second game back since knee surgery. Over the course of the season, they offense is averaging 23.0 PPG. But, as noted, for the last three games they have been averaging 8 points less. Plus, they will have to battle a very inventive defense, and the Steelers will be without one of their key running backs once again, as DeAngelo Williams is still out.
The Pittsburgh offense all flows from Roethlisberger (62.0 COMP%, 17 TDs, 7 INTs, 13 Sacks). For Pittsburgh, their red zone offense has been a problem over the last three games. What is overall the eighth ranked red zone offense in the league at 65.00% has, over the course of the last three games, been relegated to 29th (33.33%).
WR Antonio Brown (55 REC, 12.3 AVG, 6 TDs) is the go-to guy as far as passes are concerned. Note, when the Steelers went 4-1 in their first five games Brown caught five touchdown passes. During the past three games, which were all losses, he's caught just on TD pass. The rushing attack features one of the best running backs in the NFL, Le'Veon Bell (83 ATT, 376 YDs, 4.5, 0 TDs). But Bell, like Brown, needs to hit pay dirt in this game. He does not yet have a TD.
Cowboys Defense Notes
The Cowboy D is holding teams to 17.5 PPG. Their numbers include 18 sacks, 31 TFL, and nine forced fumbles with six recovered. Their secondary is not as adroit as their LB unit and D-line. They do have 27 PD and four INTs. Opponents are averaging 256.4 YPG in the air against them. Interesting to note that for the entire season the team's red zone defense is 51.85% (12th), but for the last three games it is 40% (tied for 5th).
Dallas is without safety Barry Church, who will undergo surgery. Church had three PD, two INTs, and one FF. They will also be missing CB Morris Claiborne and his two TFL, five PD, and one INT. CB Brandon Carr (32 TCKL, 6 PD, 1 INT) is healthy and ready to go, as is LB Sean Lee (77 TCKL, 5 TFL, 1 PD). Lee leads the team in tackles. DT Tyrone Crawford (19 TCKL, 3.5 Sacks, 4 TFL, 2 FB REC) anchors the frontline.
2016 NFL Week 10 Free Pick Dallas Plays Pittsburgh
In this 2016 NFL week 10 free pick Dallas plays Pittsburgh in what looks to be a tight game. The spread is three points with home team Pittsburgh favored. You've got two premium running backs and two top quarterbacks with one representing the older generation and the other the newest players in the league. We are going with youth in this one and taking the Cowboys at +3.0.Kickoff is 4:25 p.m. ET.
2016 NFL Week 10 Free Pick Dallas Plays Pittsburgh: Dallas at +3.0