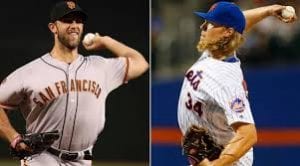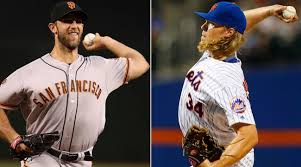 Our 2016 MLB NL Wild Card free pick offers an analysis of the pitching and hitting of the San Francisco Giants (87-75) and the New York Mets (87-75). The game, which will be played at Citi Field in New York, should be close. The Mets 4-3 took this year's series.
The two teams got to the Wild Card in two different ways. The Mets, who were rife with injuries, had to really go full steam towards the finish line. On August 19, they were 61-62. They burned through the rest of August and September to get to this game tonight. They did that by going 26-13, which ended up being the best record over that time period.
On June 26, the Giants were in great shape as they led their division by eight games. By the All-Star break, they were 57-33. The Giants looked golden. But then it was as if they didn't want to get into the postseason as they went 30-42. That is the worst post-All-Star break record of any Wild Card team since 1995. That's the year that the Wild Card was first instituted. Ironically, it was a 2-0 loss to the Mets on August 21 that knocked the Giants out of first place in the West for good.
Giants vs. Mets Pitching
Madison Bumgarner has a 7-3 postseason record. He's earned a 2.14 ERA 14 postseason appearances. In 2016, he was 15-9 with a 2.74 ERA. He's notched 251 strikeouts. He's been solid throughout the season, although in September despite pitching well he went 2-1 with three no decisions. This was more of a result of a lack of hitting at times by the Giants, rather than bad pitching.
Noah Snydergaard gets the start for the Mets. Last year he made his only postseason appearances and earned a record of 2-1 and an ERA of 3.32. In the 2016 regular season, he was 14-9 with a 2.60 ERA. Over the course of the season, he only allowed 11 homers. That's a major contrast to Bumgarner who gave up 26. In September his ERA was 2.83. Over five starts he was 2-2. He's posted 218 Ks.
Mets relief is solid. Closer Jeurys Familia has 51 saves and 5 blown saves. His ERA stands at 2.55, His win/loss is at 3-4. The Giants relief situation is perhaps not as sound. Giants closer Santiago Casilla had a tough season, as he notched 31 saves but garnered 9 blown saves. His ERA is 3.57. After Casilla was removed from the closer role in September, Sergio Romo took over those duties. He finished the season with a 2.54 ERA, 14 holds and four saves.
San Francisco vs. New York Hitting
For San Francisco, Buster Posey is tops on BA at .288 while Brandon Belt leads in homeruns with 17 and Brandon Crawford in RBI with 84. If you find these offensive stats to be underwhelming, you're not alone. If Giants pitching is not stellar, the team will be in trouble. Then again, the Mets are no offensive powerhouse either. Asdrubal Cabrera leads the team in BA at .280. Yoenis Cespedes is tops in round trippers with 31 and RBI with 86.
However, as a team, New York is superior in terms of power as they have slammed 218 homeruns to San Francisco's 130. The Mets also lead in slugging percentage, 417 to 398. When it comes to average, the Giants have scored more runs (715/641) and have a higher batting average (675/649).
2016 MLB NL Wild Card Free Pick
In determining our 2016 MLB NL Wild Card free pick, we find that the Mets hold an advantage when it comes to pitching and power hitting. The Giants are challenged when it comes to closing out a game, but they certainly have more consistent hitters. Home field may be helpful tonight. We're taking the Mets at +116 tonight.
2016 MLB NL Wild Card Free Pick: New York at +116