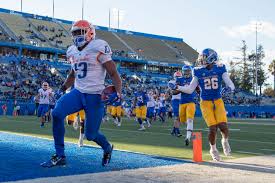 Our 2016 college football week 10 free pick features the San José State Spartans (3-6) at #24 Boise State Broncos (7-1). The Spartans are 2-3 in the Mountain West Conference's West Division and in third place, while the Broncos are 3-1 in the MWC Mountain Division and second. Boise State, which lost for the first time last week to Wyoming 30-28, wants to win big in this game after its disappointing performance against Wyoming. San José State, which beat UNLV last week 30-24, is looking for two conference wins in a row.
San José State Spartans
San José State is averaging 23.1 PPG on offense while allowing opponents 35.1 PPG. On offense, they bring a decent mix of ground game and air attack. Senior QB Kenny Potter (57.1 COMP%, 11 TDs, 6 INTs) is a solid passer and an overall able runner. Although he has four rushing TDs, he not the primary part of this team's ground game. Three players have 300 or more yards rushing this season, including Zamore Ziglar who is averaging 5.4 YPA and has rushed for three touchdowns. Tre Hartley (33 REC, 572 YDs, 17.3 AVG, 4 TD) and Justin Holmes (24 REC, 431 YDs, 18.0 AVG, 2 TDs)and the club's two top pass catchers. They can do some damage.
The Spartan bring a good pass defense to the field. They're holding opponents to just under 207 yards in the air per game. However, they have a tough time stopping the run and that could be their undoing. They will have to work hard to stop the Bronco rush. At the same time, despite having a good pass defense, they're going up against one of the better air games in the MWC.
Boise State Broncos
The Broncos are averaging just over 482 YPG of offense. Their primary weapon is the pass, which the augment nicely with a sound running game. Sophomore Brett Rypien is a passing quarterback with solid stats. His completion rate is 62.6% and he's tossed 15 TDs and just six picks. This season he's had 2,359 yards passing. He's got a large number of top receivers to toss to including WRs Thomas Sperbeck (55 REC, 16.2 AVG, 7 TDs) and Cedrik Wilson ( 31 REC, 18.8 AVG, 6 TDs). Running back Jeremy McNicholas has gained 1058 yards on 198 carries. He's averaging 5.3 YPA and has 14 TDs. The offense is averaging 33.5 PPG.
Boise State's rush defense is good. The club is allowing opponents about 150 YPG. Their pass defense is worrisome as teams are able to throw for 229.1 YPG. However, the Broncos are allowing 21.6 PPG, which although not stellar is solid. They should be able to, overall, handle the Spartan offense, but we don't see them shutting them down completely.
Our 2016 College Football Week 10 Free Pick
Our 2016 college football week 10 free pick sees Boise State as coming back from last week's loss and beating San José State. However, we feel that the -30 is a bit too hefty for the Broncos to beat. We're taking the San José State Spartans at +30.
Our 2016 College Football Week 10 Free Pick: San José State Spartans +30