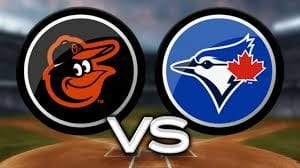 Our 2016 AL Wild Card free pick has the Baltimore Orioles (89-73) and Toronto Blue Jays (89-73) playing tonight at 8 p.m. in Toronto at Rodgers Centre. The two teams have played one another 19 times this season and the Blue Jays have won 10 of those games.
These two teams are about as equal as can be. In the home stretch, Baltimore won 7 of 10, including two of three against the Blue Jays in a series that was played last week. In the final series for both teams, the Orioles took two of three from the Yankees while Toronto won two of three against the Red Sox. Over their past 10 games, the Jays were 6 of 10.
Baltimore and Toronto Pitching
The starters tonight are both righties. Chris Tillman (16-6, 3.77 ERA) is the pitcher of choice for Baltimore while Marcus Stroman (9-10, 4.37 ERA) will be on the mound for Toronto.
Tillman last pitched on September 28. That game, which the team won, was against the Blue Jays and resulted in no decision for the righty. In August and September, Tillman had his ups and downs, going 2-3. His August EAR was 6.60, while his September ERA settle down to 3.79. His July was solid, as he went 4-1 and earned a 2.79 ERA.
Through to the end of July, Marcus Stroman was 8-4. But in August he was 1-1 with three no decisions and in September his record was 0-5. In three of those starts, the Blue Jays scored no runs and in his one no decision, which the team won 3-0, he allowed one hot and no runs. Thus, his August stats are a bit deceiving.
You've got to expect that both managers will go to their bullpens early if either of their starters gets into trouble. This game is a won or done deal. If Toronto actually hits the ball, Stroman has the edge. Overall, the Orioles have the edge when it comes to relief while the Jays are tops in the AL as far as opponent batting average is concerned.
In creating our 2016 AL Wild Card free pick, we have noted that Blue Jay pitching leads when it comes to BAA. Hitters are batting just .242 versus Blue Jay pitching. Baltimore's BAA is a respectable .258. Also, Toronto is tops in ERA at 3.78, while the Orioles are 4.22.
Orioles and Blue Jays Offense
If this game comes down to hitting, Baltimore has an advantage in the homerun area. No AL team has more round trippers than the Orioles, 253. Stroman has allowed 21 homers this season. The Jays are third in homeruns with 221. Tillman has given up 19 round trip balls.
In the realm of batting average, the Orioles are at .256 and the Blue Jays come in at .248. Toronto has 18 more RBI than Baltimore. Top hitters for the O's include Manny Machado (.294 BA, 96 RBI, 37 HR) and Mark Trumbo (.256 BA, 108 RBI, 47 HR) . Trumbo is hitting .450 against Stroman, while Machado is at .250. Adam Jones, who has 29 homers and 89 RBI, is hitting .400 against the starter.
For the Blue Jays, top hitters include Josh Donaldson (284 BA, 37 HR, 99 RBI), Edwin Encarnacion (.263 BA, 42 HR, 127 RBI) and Troy Tulowitzki (.254 BA, 24 HR, 79 RBI). Encarnacion is hitting .293 and Tulowitzki .417 against Tillman, and each has tagged him for three homers.
Our 2016 AL Wild Card Free Pick
Our
the Blue Jays as having a home field edge, as well as an upper hand when it comes to overall pitching. However, Baltimore is stronger when is comes to closing out the game and over slugging ability. The Orioles are 4-6 when visiting Toronto this season. We're going with the Blue Jays.
Our 2016 AL Wild Card Free Pick: Take the Blue Jays at -138