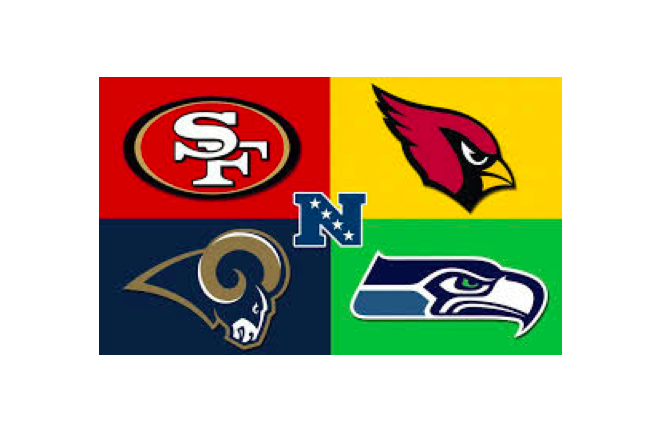 This is our 2018 NFC West preview hub page. On this page, you'll find links to each of our extensive 2018 NFC West team previews. Plus, this hub page offers quick insights into each team, including strengths and weaknesses, and our projected order of finish for this division. By reading this page, you'll get a basic overview of each club. Rest assured, our specific 2018 NFC West preview pages are designed to offer in-depth analysis of each of the four teams, the San Francisco 49ers, Los Angeles Rams, Seattle Seahawks, and Arizona Cardinals.
NFC West- 2017 Season
Last season, the ascendance of the Los Angeles Rams surprised many as much as the descendance of the Seattle Seahawks did. As you may remember, the Rams topped the NFC West with an 11-5 record, while, at the same time, Seattle came in second at 9-7. After that, it was the Arizona Cardinal, who were an even 8-8. Finally, the San Francisco 49ers ended up at 6-10, as they reeled off six wins in their last seven games. There is one thing that will most likely remain constant in 2018. That's the Rams first-place finish.
2018 NFC West Preview: Teams
Please note, below are some quick observations about each NFC West team. When making any wager, make sure that you check the latest information available. That includes our free NFL picks, each of which is created within 24 hours of game day.
New head coach Steve Wilks comes in with zero years NFL head coaching experience
QB Carson Palmer is gone and Sam Bradford in
After missing last season with an injury, RB David Johnson is back
Vet WR Larry Fitzgerald had 109 REC and 1,156 YDs last season
DE Chandler Jones topped NFL with 17 sacks
Safety Antoine Bethea (5 INTs) had a great 2017 season and was fine team leader
Can special teams be upgraded with hiring of STC Jeff Rodgers?
QB Jared Goff has started to come into his own
RB Todd Gurley is a massive rusher and receiver
O-L performed well last season and should again
D had 48 sacks (4th NFL)
D-line is top-notch
Secondary is vulnerable
Special teams some of best in league
Does SF spell success Garopollo?
Free Agent RB Jerick McKinnon will rush, catch, and, hopefully, score.
WR Marquise Goodwin is fast and prolific
LB unit suspect
Upgrade in secondary, as CB Richard Sherman joins defense
Rookie Dante Pettis comes to ST with nine college TDs on returns
Second-year head coach Kyle Shanahan still has numerous issues to address
QB Russell Wilson was on target for 34 TDs last season
Seattle receiving group weak and lacks depth
Ranked 23rd in rush attack, can they gain more ground?
O-line and D-line have problems
Defense has lost it verve and drive
Mike rookie Rashad Penny, with seven run-back TDs at SD State, revive return game?
Is HC Pete Carroll's job in jeopardy?
Projected Order of Finish
Our 2018 NFC West Preview sees the following order of finish:
Final Thoughts- 2018 NFC West Preview
As the NFL season unfolds, you'll want to utilize our previews as a foundation for your picks. Our 2018 NFC West preview provides sports bettors with a wealth of information. But, of course, don't rely on previews primarily. As the season develops, previews become less and less relevant. Consequently, do be sure to check in with Betting Brain each day for expert free picks, insights into the players, coaches, and teams, and the latest news. Visit often, as we've got all of the information sports bettors want and need.
Other Links