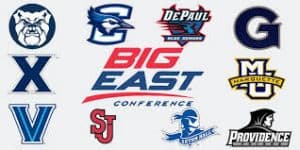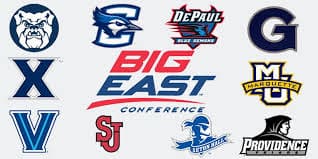 Our Big East basketball preview 2020 – 2021 notes that two teams, the Villanova Wildcats and Creighton Bluejays, start the season off in the AP Preseason Top-25. The Wildcats are ranked third and the Bluejays 12th in the nation. The Big East, which last season was comprised of 10 teams, is ranked first amongst the top six conferences in men's college basketball. Note, this season the University of Connecticut Huskies joins the conference, expanding the Big East to 11 teams. Since 2014, Villanova has either won the Big East regular-season championship or taken the conference tournament title or done both. The entry of UConn into the Big East could help shake up the conference.
Big East Preview – 2019 – 2020
Last season, Creighton, Villanova, and the Seton Hall Pirates finished tied for first at 13-5. Of the three, the Bluejays and Wildcats topped out with overall records of 24-7. The Pirates were 21-9. As the season ended, the three teams were nationally ranked. Creighton was number seven, while Villanova was 10th and Seton Hall 15th.
Interesting to note that the Providence Friars finished one game behind the three at 12-6. The Butler Bulldogs recorded a mark of 10-8, three games out of first and two games in back of the Friars. Oddly, Providence was unranked while the Bulldogs were 23rd. That was despite the fact that the Friars finished ahead of Butler in the conference. However, Butler was 22-9 overall, while Providence was 19-12. Consequently, the Bulldogs possessed better national credentials than the Friars did. Thus, they earned the national ranking.
After the Bulldogs, the Marquette Golden Eagles and Xavier Musketeers finished tied for sixth at 8-10. They were five games out of first place. However, Xavier was 19-12 and Marquette 18-13. Finally, the St. John's Red Storm and Georgetown Hoyas ended the season one spot and two games away from last place. The two teams were 5-13 in the Big East, while St. John's was 17-15 overall and Georgetown 15-17. The last-place DePaul Blue Demons ended the 2019-2020 season at 3-15 and 16-16 overall.
UConn, which had a solid season last year, going 19-12 overall and 10-8 in the AAC, brings an experienced team to the conference. The Huskies, who finished tied for third in the AAC with the Memphis Tigers, last made it to the NCAA Tournament in 2016. They won the national title in 2014.
2019-2020 Big East Conference Standings and Records
Creighton Bluejays (#7) 13-5
Villanova Wildcats (#10) 13-5
Seton Hall Pirates (#15) 13-5
Providence Friars 12-6
Butler Bulldogs (#23) 10-8
Marquette Golden Eagles 8-10
Xavier Musketeers 8-10
St. John's Red Storm 5-13
Georgetown Hoyas 5-13
DePaul Blue Demons 3-15
Big East Basketball Preview 2020 – 2021 – Rankings and Projections
Villanova is the team to watch according to our Big East basketball preview 2020 – 2021. They have all the makings of a champion. However, Creighton has some fine players and solid depth which will allow them to compete on the national stage as well as in the Big East. Newly added UConn offers top teams some challenges, while Seton Hall, Providence, and Xavier will not go out with a fight. Marquette, Butler, and St. John's are always pesky and unpredictable. DePaul and Georgetown don't have the depth to really compete in this conference.
1. Villanova
In our top-25 preview, we picked the Wildcats to finish first in the Big East and go all the way to the NCAA Tournament title game. This basketball team is loaded with scorers, as four of their returning starting five are double-digit scorers. Senior point guard Collin Gillespie is the anchor on this team and a fine two-way player. Guard Caleb Daniels, who was a double-digit scorer with the Tulane Green Wave, joins the Cats as a junior transfer. He adds another offensive weapon to a team that is loaded with accurate shooters. Villanova has offensive depth. They move the ball well and are careful with it. Last year, they ranked 17th in the nation and first in the Big East in turnovers. They are the team to beat. Thus, the conference is theirs to win.
2. Creighton
The Creighton Bluejays joined the Big East in 2013. Last year was the first time that they topped the conference, sharing the regular-season title with Villanova and Seton Hall. Like 'Nova, they return a solid core, including Marcus Zegarowski, a junior guard, who is one of the best players in the Big East. The Bluejays will be without star guard Ty-Shon Alexander (16.9 PPG), as he opted to declare for the NBA Draft. The Creighton backcourt is deep, while the frontcourt has potential as long as redshirt senior Damien Jefferson and junior Christian Bishop can continue their ascent, Additionally, the team needs senior Jacob Eppersoncan to stay healthy. Last year, rebounding was a big issue for the Bluejays, as they finished with a -2.2 margin. Advisedly, this needs to be addressed. Overall, our Big East basketball preview 2020 – 2021 finds that the Bluejays will be competitive within the conference and nationally.
3. UConn
The UConn Huskies enter Big East play with a deep squad as Dan Hurley starts his third year as head coach. Hurley's done a good job getting the Huskies back on track. Top guards, Christian Vital (16.4 PPG) and Alterique Gilbert (8.2 PPG), are gone. It's expected that sophomore guard James Bouknight (13.0 PPG, 4.1 RPG) will take over and have a breakout season. He's a solid scorer who can drive to the basket or pop it in from the backcourt. Improved three-point accuracy would be helpful. Jalen Gaffney, also a sophomore guard, has solid scoring chops. They're joined by forwards Josh Carlton and Akok Akok, who last season averaged 7.8 PPG and 5.8 PPG respectively. In 2019 – 2020,, Akok averaged 2.6 BPG. The paint is rich in talent and includes seniors Tyler Polley, Josh Carlton, and Isaiah Whaley. They can score, rebound, and defend. The addition of the Huskies to the Big East will likely change the chemistry and power structure in the conference. Thus, look for them to return to the Big Dance for the first time since 2016.
4. Seton Hall
The Seton Hall Pirates had a watershed year last season. After finishing third in the conference for four successive seasons, the Pirates captured their share of first place. They played well on both sides of the court, averaging 74.4 PPG while allowing 67.9. That gave them a PF/PA differential of plus-6.5. Our Big East basketball preview 2020 – 2021 notes there's good news and bad news for the Pirates. Seton Hall will miss starters Myles Powell, Quincy McKnight, and Romaro Gill. At guard, Powel was good for 21.0 PPG, while fellow backcourt player McKnight averaged 11.9 PPG. The powerful and big Gill, at center, averaged 7.8 PPG. However, Seton Hall still has talent. Senior forward Sandro Mamukelashvilli, who stands 6-11, returns as the team's top performer, averaging 11.9 points and 6.0 rebounds per game. It's expected he will expand those numbers this season. It's hoped that forward Myles Cale, also a senior, will rebound from what was a disappointing 2019-2020 season. Guard Bryce Aiken, a transfer from Harvard, was one of the best in the Ivy League, but he's had health issues. Wing Jared Rhoden, a junior who was good for 9.1 PPG, could be a major factor this season. Although the Pirates excelled last season, we expect they will take a step back this year. In terms of departures, there's a lot to make up for and not enough to ensure this team tops the Big East.
5. Providence
Our Big East basketball preview 2020 – 2021 finds that head coach Ed Cooley is a master at fashioning just about any team into a competitor. Last season, they had a tough 6-6 start and played moderately well through the midseason. However, the Friars turned it on at the end, winning their final half-dozen games and finishing fourth. Alpha Diallo, Luwane Pipkins, Maliek White, and Khalif Young have departed and with them a collective 37.7 PPG. However, the Friars have some fine talent. The backcourt includes juniors A.J. Reeves (7.4 PPG) and David Duke (12.0 PPG). Duke is a potential all-conference pick. Saint Joseph's transfer Jared Bynum, a sophomore, joins the unit. Last season, he averaged 11.3 points, 4.5 assists, 3.6 rebounds, and 1.3 steals. Senior center Nate Watson anchors the paint. Last season, he averaged 9.0 PPG and 4.6 RPG. It's hope that he can improve on those numbers this year. Forward Noah Horchler, a former junior college player who then spent two seasons at North Florida, is a senior. Last season, he averaged 16.0 points, 9.3 rebounds, 1.3 assists, and 1.7 blocks. We expect Providence to be a dangerous opponent. Also, we find that the NCAA Tournament is a distinct possibility.
6. Xavier
The Musketeers will be without Naji Marshall, Tyrique Jones and Quentin Goodin and their 30-plus points. In the meantime, Travis Steele starts his third season as Xavier's coach. Senior guard Paul Scruggs (12.7 PPG, 4.5 RPG) is expected to put up big numbers, while senior forward Jason Carter (6.9 PPG, 4.9 RPG, 1.4 APG) anchors the territory around the basket. Last season, Scruggs hit 46.3% of his field goals. Xavier welcomes a top-25 recruiting class that includes guards Dwon Odom, C.J. Wilcher, and Colby Jones. It's hoped that they can help generate more offense as the Musketeers averaged just 70.7 PPG (192nd Nationally, 9th Big East). Xavier needs to improve their shooting accuracy and reduce their turnovers while they maintain their solid defense. Subsequently, if they can do so, they'll win more than lose.
7. Marquette
In the last five years under coach Steve Wojciechowski, the Golden Eagles have won at least 18 games a season. Marquette will certainly miss guard Markus Howard and his 27.8 PPG. Also gone is swing Sacar Anim and forward Brendan Bailey. Together, they averaged 20.2 PPG. The good news, according to our Big East basketball preview 2020 – 2021, is that the Golden Eagles have the top recruiting class in the Big East. Freshman Dawson Garcia headlines a talented group of incoming forwards that include Oso Ighodaro and Justin Lewis. Ohio State transfer D.J. Carton brings consistency and 10.4 PPG to the floor. Returning senior guard Koby McEwen and senior forward Theo John will lead the team. Last season McEwen averaged 9.5 points, 5.0 rebounds, and 3.2 assists per game. Although he's a sound wing, he needs to improve his three-point shooting. John is a major defensive force in the paint. On the outside, junior forward Jamal Cain, who averaged 5.2 PPG, is a solid perimeter defender. Although the Golden Eagles certainly have talent, their depth is an issue. Thus, we expect this team to yield under the immense competition that defines the Big East.
8. Butler
Although the Butler Bulldogs see their highest-rated recruiting class come in, there are issues. First, the new players will need to contribute immediately, as the Bulldogs lose both guard Kamar Baldwin and forward Sean McDermott. Together, they led the team in scoring last season, averaging 16.2 and 11.7 PPG respectively. The Bulldogs were 10th in the Big East in scoring but were helped by the fact that they were the top defensive team in the conference and 11th-best in the nation. Three starters come back, guard Aaron Thompson and forwards Bryce Golden and Bryce Nze. Three four-star freshmen join the team, as does graduate transfer Jair Bolden. Bolden, a guard, spent last season with South Carolina where he averaged 8.5 points, 2.4 rebounds, and 1.4 assists per game. This is a good team. However, they lack the talent and depth needed to keep up with the better teams in the Big East.
9. St. John's
The major question for the Red Storm is do they have the talent that can make up for the loss of guard/forward LJ Figueroa (14.5 PPG), guard Mustapha Heron (13.8 PPG), and guard Nick Rutherford (5.5 PPG)? St. John's has some very fine role players, but our Big East basketball preview 2020 – 2021 doesn't see anyone who will be able to step up and become that major force on the court offensively. Figueroa and Heron were not just big-time contributors, they were also leaders. Guards Rasheem Dunn and Julian Champagnie return. Dunn averaged 11.9 PPG while Champagnie was good for 9.9 PPG and 6.5 RPG. JUCO transfer Vince Cole is an able guard/forward who'll create scoring opportunities. However, there's not quite enough on this team, especially in front, to enable them to rise to a new level. Consequently, St. Johns' will finish near the bottom of the conference.
10. DePaul
Last year, DePaul started the season at 12-1. But once they started conference play, the Blue Demons saw it all fall apart. They ended the season with just four more wins, going 16-16 overall and 3-15 in the Big East. That resulted in a 10th-place finish. The fact is that DePaul did not have enough on either end of the court. That is despite senior guard Charlie Moore's return. He's a top player who last season averaged 15.5 points, 6.1 assists, and 1.5 steals per game. But, Moore alone can't make up for this team's deficiencies. Our Big East basketball preview 2020 – 2021 notes that a trio of transfers, guards Ray Salnave and Javon Freeman-Liberty and forward Pauly Paulicap, may help point production. However, we still don't think that will be enough to make a major difference.
11. Georgetown
Two huge losses, guard Max McClung (15.7 PPG), who transferred to Texas Tech, and forward
Omer Yurtseven (15.5 PPG), knock this team down a notch. The Hoyas are young and big. Unfortunately, they lack scorers. Returning are senior guard Jahvon Blair (10.8 PPG) and senior forward Jamorko Pickett (10.2 PPG). Pickett, along with sophomore big men Qudus Wahab and Timothy Ighoef, will likely focus on defense. Note, it is expected that this season the Hoyas will be offensively challenged. Thus, defense will be key to keeping Georgetown in the game. Head coach Patrick Ewing has his work cut out for him.
Big East Basketball Preview 2020 – 2021 – Final Word
Although our Big East basketball preview 2020 – 2021 notes that Villanova is favored to win the conference, we also find that the addition of UConn, as well as a fine Creighton team, will certainly challenge this concept. Plus, the Seton Hall Pirates and Providence Friars come to the season ready to compete. At the same time, Xavier always seems to be a threat. Still, the Wildcats will be tough to beat. Consequently, we expect this Big East season to play out as projected. Follow this link back to our NCAAM homepage.